Question —
Quick questions -
EMALS status - can we get an update?
Also, what role do you foresee for E-2D Hawkeye if and when inducted?
Can I ask you regarding Chennai situation? What all steps are being taken towards this problem?
Answer —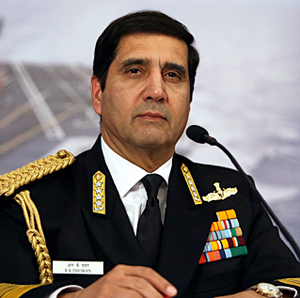 In Chennai, we have our ships, aircraft and personnel deployed. For the last nearly one week, the weather has created havoc with flooding in Chennai and around the coastal areas of TN. Our naval teams including our Geminis, our ship Aerawat as well as our tanker, are deployed there with the helicopters and divers distributing food packets, distributing water, rescuing marooned people, from remote locations.
We also carried out innovative survey of the areas using UAVs where we could then assist the state administration to show them the water logged locations for pinpointing the launch of rescue operations.
In addition, the whole of Chennai airport is flooded, so INS Rajali, the Indian Navy's airbase has been activated and all the relief material as well as the civil flights are operating out of there. This is ensuring that the stagnation that was coming due to the inability to use the airport at Chennai is now being worked through INS Rajali. Just yesterday we had nearly 40 tonnes of relief material that landed there, the NHDR teams landed and we also had some civil flights that will be operating so that all the stranded passengers can be taken out.
This is one of our tasks, one of our roles and the Navy is there standing by and in action to take stock of the situation, actually help out people who are marooned.
We have our Geminis and boats in the water going to the remote locations, we have all our sailors and personnel who are deployed for this operation also taking stock of the situation.
Regarding EMALS, it is related to our Indigenous Aircraft Carrier which is the next carrier that we would like to build indigenously in the country. The Navy needs to have two operational carriers at any given moment of time for which we need to have an inventory of 3 aircraft carriers so that we can keep two operational - one on each coast because the concept of our operations is centred around the carrier task force for sea control and of course the submarines for sea denial.
In keeping with that vision and making sure that we induct the carrier at the right time so that we have 2 carriers available, we have carried out a study, a detailed study as to what the contours of this aircraft carrier should be.
This aircraft carrier at this point of time, we are looking at something in the region of 60-65,000 tonnes. All aspects related to the propulsion, type of aircraft, launch and recovery system on this IAC are part of the detailed study. We are also looking at the aspects of the build strategy, design strategy. EMALS is one of the options which are being looked at this point of time. Nothing has been firmed up and we are looking at all launch and recovery options.
As far as the Hawkeye is concerned, that also forms a part of the same study. Once we decide on the launch and recovery system, we will take stock of aircraft that will fly from it.