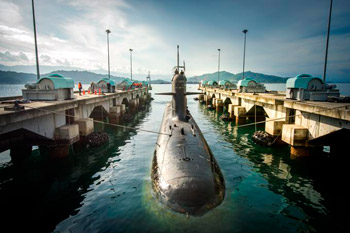 Based on a long term partnerships experience, DCNS is determined to contribute to Malaysia's self-reliance and sovereignty and created in that purpose a local subsidiary, DCNS Malaysia.
The Group also has a strong industrial commitment in the country through its partnership with Boustead Group and their Joint-Venture Boustead DCNS Naval Corporation (BDNC) for the In-Service-Support (ISS) of the two Royal Malaysian Navy Scorpene submarines. Boustead Group and DCNS are working together in pairs to ensure the success of this program which includes a large transfer of technology from DCNS, a crucial element to allow local participation, self-reliance and local content in accordance with the National Defence Industry Policy.
DCNS is also working through a solid transfer of technology with Boustead Naval Shipyard (BNS) on the Littoral Combat Surface (LCS) Program launched by the Royal Malaysian Navy to purchase six Littoral Combat Ships. BNS is the Prime Contractor of this program for which DCNS' Gowind® design and DCNS SETIS® Combat Management System have both been selected. The first vessel is being finalized and the keel laying of the second vessel was completed at the Boustead Naval Shipyard in Lumut on February 28.
In the frame of the LCS program, DCNS Malaysia hired in January 2016 a team of Malaysian engineers to train them on combat system integration. This is part of the massive effort by the Group to contribute to the construction of a local workforce able to ensure the execution of future naval programs in Malaysia.
Come and discover our products and expertise on DCNS booth!