Jean-Louis Rotrubin Chairman & Chief Executive Officer Defense Conseil International (DCI)
Cont...
SP's: Will such an approach help in reducing costs and faster procurement?
Rotrubin : Yes, definitely.
SP's: Can you specify as to what type of training and maintenance support you can provide to army, navy and air force?
Rotrubin: Many nations are now in their second cycle regarding equipment they have previously bought, and this means that the basic levels of training they have already received are no longer useful. Many of them have established training schools of their own and are therefore interested now in specialised rather than generic training. We now position ourselves as being specialists in, for example, naval operations, electronic warfare or Special Forces training, able to provide programs oriented toward dozens of trainees.
The other trend we are seeing is an increasing desire for simulation is almost every imaginable application.
SP's: Can you provide consultancy in providing a model for evaluating transfer of technology and off-set measures?
Rotrubin : Yes, some nations require and demand two things from us—assistance with the development of their own training programmes and the provision of external specialists to help with future missions-specific training issues.
SP's: Please quantify the range and scale of training services offered by NAVFCO to various foreign navies?
Rotrubin: Training ranges from academic training of naval officers and military engineers, through maritime training to engineering and logistics training at all stages tailored to the requirements of the customer navy, culminating in the operational qualification of the ships delivered by French shipyards and the crews manning them, but also the performance of the crew to execute multi-task tactical exercises.
The coaching method is adapted to the specific requirements of the customer, using state-of-the art technologies and e-learning.
SP's: DCI is said to have specialisation in transfer of French Navy's know-how to navies of foreign nations; can you please describe the process for realistic assessment of DCI's domain expertise?
Rotrubin: For nearly three decades, NAVFCO has been specialising in instruction, training, consulting and technical assistance for friendly foreign navies and has trained more than 13 000 officers, naval engineers, petty officers and specialists.
From theoretical instruction to operational training, in France or abroad, whether for European, Middle-eastern, South American or Asian customer countries, DCI-NAVFCO is the partner for naval and naval/air equipment sales.
SP's: How are the mechanics of providing comprehensive product support, support services, equipment operating and maintenance philosophies, documentation, etc worked for naval systems?
Rotrubin: We have developed a catalog of generic operational training courses. The courses provide a wide range of operational training necessary to correctly use the different action and information means on board a modern warship: anti-submarine warfare, anti-air warfare, anti-amphibious warfare, mine warfare, electronic warfare (radar and communications), information warfare, aircraft control, operational information management.
SP's: Can you describe the nature of outsourcing activities undertaken by DCI?
Rotrubin: In France, we are working on outsourcing projects with French governments. Two years ago, we have signed a PFI programme with French defense ministry, to provide hours of helicopter training for 22 years. The programme is for the initial training of French pilots from Air Force, Army and Navy. With the economic crisis, there will be more PFI projects in other countries like UK, Germany and Spain and so on because it is a good way to reduce defence costs.
SP's: Are your playing any role in the Scorpene submarines being constructed by India at Mazagon Dock Ltd?
Rotrubin: We can have cooperation between India and France for submarine training for the scorpene project. Indian training programme should begin by 2012. We can train the Indian Navy on the scorpene submarine in Malaysia. The Malaysian navy has also bought a DCNS scorpene simulator. So we can impart training to the Indian Navy on the Malaysian Scorpene simulator, which is operational in Malaysia.
SP's: What kind of military services could DCI provide to the Indian Armed Forces in general and the Indian Air Force (IAF) in particular?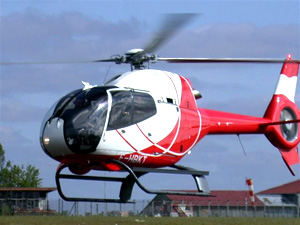 Rotrubin: There are many opportunities now in India for helicopter pilot training. We have some training for Mirage 2000-5 pilots, which have been planned. However, the upgrade is still under negotiation. For the Rafale also we could provide training if required, but it is quite easy to pilot the modern rafale and it would not require much training.
SP's: In case the Indian armed forces goes for a European product such as in the case of light utility helicopter programme, could your company assist in the initial training of the selected crews? If yes, please explain as to how could this be done?
Rotrubin: Sure, we can be involved with training for other equipment like planes and helicopter. We have more than 200 courses and can very well adapt to India's needs. For India, we can train your forces on Indian equipment, as you have many armament manufacturers in your country. We can impart to Indian forces the skills and training to improve their level of know-how and skills in terms of operational activities.