By Lt. General P.C. Katoch (Retd)


Former Director General of Information Systems, Indian Army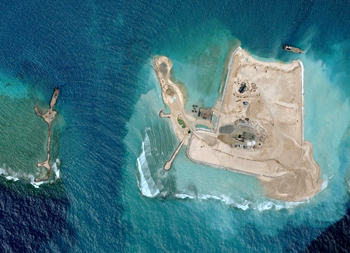 Mischief Reef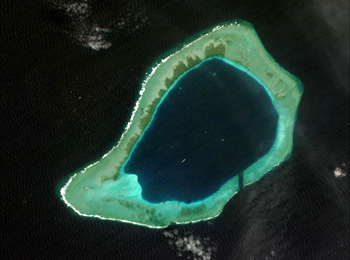 Zhubi Reef
The Hague-based Permanent Court of Arbitration (PCA) recently gave its judgment on the territorial claims of Philippines filed in 2013 against China over disputed areas in South China Sea (SCS) with Manila seeking a ruling on its right to exploit waters in its 200-nm EEZ, as allowed under UNCLOS. While China, with her economic might, half-hoped the ruling would in her favour, the balance world (less few Chinese allies) hoped the opposite. The ruling in fact was very fair, the PCA virtually rebuking China for her illegal activities in the SCS; from the construction of artificial islands to interference with fishing, and ruled that its expansive claim to sovereignty over the waters had no legal basis.
The tribunal also said that Beijing had violated international law by causing severe harm to the coral reef environment and by failing to prevent Chinese fishermen from harvesting endangered sea turtles and other species on a substantial scale. The ruling lifted the mask of China's self-aggrandized righteousness and blatant defiance of international laws, even as the PCA has no powers to enforce its ruling. However, the PCA is backed by the UN and hence has international backing. The PCA ruling was crucial China who so far had been deflecting international arbitration by stating that all issues in the SCS were bilateral, and an adverse ruling would lead to her other neighbours seeking international arbitration against illegal Chinese claims. The ruling may have been specific to China and Philippines but Brunei, Indonesia, Malaysia, Taiwan and Vietnam, all of which have claims in the SCS noted what the tribunal said about the nine-dash line within which China asserts sovereignty., the 9-dash line also violating Indonesia's EEZ under Convention on the Law of the Sea. The ever so meticulous Chinese had also worked out their response to an adverse PCA ruling. So, simultaneous to the court ruling China issued a press release saying "The Ministry of Foreign Affairs of the People's Republic of China solemnly declares that the award (PCA ruling) is null and void and has no binding force. China neither accepts nor recognizes it". Amusingly, China with her economic might accused Manila for having bought over PCA judges.
China's reaction to the PCA ruling was no less than a bully, believing she can take on the entire world. So China has increased military activities in the SCS, signaling readiness for military action; flight testing in newly built airport in Nansha islands and inducting new guided missile systems. Chinese Vice Foreign Minister Liu Zhenmin has warned against the SCS being made a "cradle of war". China aims to get the PCA ruling rejected by ASEAN because of her economic clout, particularly with Cambodia and Laos. Cambodia has already made noises against the PCA ruling. So far, China successfully blocked discussions on the SCS in ASEAN meetings, but if she wants the PCA ruling to be rejected by ASEAN, the issue will need discussion. China claims entire East China Sea (ESC), as also major part of the SCS with scant regard to the EEZ and claims of her smaller neighbours, disregarding international norms and laws like UNCLOS, including attempts to jostle US aircraft, jostling Japanese and Vietnamese naval vessels. preventing oil exploration by Vietnam in latter's territorial waters, violating Japanese waters particularly of Japanese controlled Senkaku Islands, to name a few. Chinese illegal acts to effectively control SCS is also linked to her nuclear strategy since submarines on a mission can quickly submerge in deep waters of the SCS, secure against attacks, and advance SSBNs from SCS to Pacific Ocean in future time frame. As importantly, the SCS is thought to hold11 billion barrels of crude oil and 190 trillion cubic feet of natural gas, which China wants to grab. Prior to the PCA ruling there were indications China was preparing to convert Scarborough Shoal into an artificial island with an airfield and harbor, which would not only prevent Philippines from operating in the waters of Spratly islands but also better monitor US navy moves in Subic Bay.
Tensions will definitely rise in SCS with China's obduracy and military activities. China's all round aggression is proceeding along predictable lines: pooh-poohing the PCA ruling, terming freedom of navigation patrols (FONOPS) by US forces as militarization to continue reclaiming more reefs and building military facilities on them, including Zhubi Reef, Mischief Reef and Fiery Cross, adding air strips, hangars, weapon storage facilities and fuel storage tanks. Philippines has signed the 'Enhanced Defence Cooperation Agreement' with the US this year, opened four air bases to US forces and commenced joint sea patrolling in the SCS. Indonesian naval warships too are patrolling the SCS now and so are Indonesian war ships. The US has stated it will continue to support her allies. Now French warships are enrooted to SCS. SCS appears headed for more turbulence. China has been feverishly piling sand onto reefs in the SCS, creating seven new islets in the region. If China goes ahead with converting Scarborough Shoal into an artificial island with an airfield and harbor, it would be major provocation. But why Chinese illegal claims in SCS, President Xi Jinping just declared the moon to be inseparable part of China due to an ancient marriage between Chinese princess Weng Chen and a moon-based alien ruler during 7th Century ACE.