By Lt. General P.C. Katoch (Retd)


Former Director General of Information Systems, Indian Army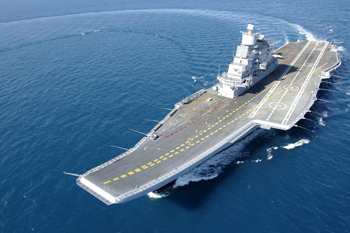 INS Vikramaditya
As per media reports, Russia has offered its nuclear aircraft carrier dubbed 'Shtorm' to India, the offer coming at a time when India and US are discussing transfer of technology for India's future nuclear aircraft carrier; INS 'Vishal'. The Russian offer reportedly was made by a Russian team that visited India recently. INS Vishal, India's second homegrown aircraft carrier which will be nuclear powered going by the media will be 300 metres long and 70 metres wide with a displacement of 65,000 tons. Quoting naval sources, our media says US has offered the electromagnetic launch system (EMALS), which does not include nuclear propulsion technology and is unavailable for the Russian carrier. India and US formed a JWG for discussing aircraft carrier but discussions have been inconclusive, sensitive points differences being secrets behind phased-scan radar and unproven electromagnetic catapult technologies. Russia has been working with our Navy past several years including modernizing INS Vikramaditya. Russia's current development of Shtorm, called Project 23000E, is for a new super aircraft carrier with a displacement between 90,000 to 100,000 tons as disclosed by Russia's Krylov State Research Center (KRSC).
Other characteristics include: 300 metres length; 40 metres wide; draft of 11 metres; cruising speed of 20 knots (kt); top speed of 30 kt; endurance of 120 days; crew between 4000-5000 sailors; ability to carry 80-90 aircraft of various kinds - naval version T-50 PAKFAs, MiG-29Ks, naval EW aircraft, Ka-27 naval helicopters; four launching positions — 2 x ski-ramp version and 2 x EMALS. EMALS facilitates easier maintenance, more reliability, better efficiency, higher-launch energy capacity, smooth acceleration and reduced stress on aircraft. Presently, the vessel is designed to be powered by conventional power plant but according to Russian sources, it can be changed to nuclear if the customer so wishes. As per Russia's Krylov State Research Center, Shtorm multipurpose aircraft carrier is designed to conduct operations in remote and oceanic areas, engage land-based and sea-borne enemy targets, ensure the operational stability of naval forces, protect landing troops, and provide the anti-aircraft defence.
Russian media quoting a Russian naval officer says, "At present, only Moscow is ready to share with New Delhi both weapons and other systems, on the one hand, and their development and manufacturing technologies, on the other." This is largely true, Russia having agreed to detail mechanics behind its supersonic cruise missiles, Su-30MKI and MiG-29K combat jets, besides also having assisted us overcome technical difficulties associated with our its nuclear powered submarine program. ToT accompanying Shtorm will enable India to improve its own design. India is already working with Russia on the FGFA project, whose naval version could easily be accommodated on Shtorm. The cost of Shtorm talked about is around US$ 12 billion, which may go up. Should a decision be taken to go for it, it needs to be considerd in what time-frame would it be developed and how the costing will be spread over the years, cost escalation included.
Russia currently operates one aircraft carrier, Admiral Kuznetsov, which was launched by the Soviet Union back in 1985. With breakup of Soviet Union, Russia really doesn't have the dockyard of a size to build Shtrom. Therefore, the construction of Shtrom here fits into the Make in India program. What India needs to consider besides the large financial investment is how many aircraft carriers we need, in what time-frame and where would they need to be deployed, irrespective of the democrats in US calling India a Pacific Power in run up to the presidential elections. Why did China go in for scores of nuclear and conventional submarines before going in for the aircraft carrier? The large target such a vessel presents vis-a-vis the type of missiles and inevitable space based weapons that would be in play by the time Shtrom or equivalent is fielded must be taken into account. Do we need more than two aircraft carriers at any one time, when the strategically located Andaman & Nicobar group of islands itself is a huge natural aircraft carrier? Isn't it for similar reason that Japan, shaped too shaped as natural aircraft carrier has not gone in for an aircraft carrier, even as heightened albeit Chinese aggressiveness may force such decision in future timeframe? Should we go for many more nuclear submarines and two aircraft carriers or lesser number of nuclear submarines and three aircraft carriers? On face value the former is a better option, heavily complimented with air, sea and subsurface reconnaissance and weapon platforms, and underwater walls as planned by China? These are issues that policy makers surely would be mulling over.