By Lt. General P.C. Katoch (Retd)


Former Director General of Information Systems, Indian Army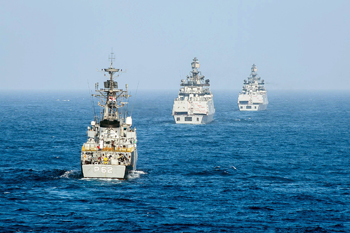 The Indian Navy Kora-class corvette INS Kirch (P62) and Shivalik-class stealth multi-role frigates INS Sahyadri (F49) and INS Satpura (F48) transit while conducting a live-fire surface gun exercise during Malabar 2016. A trilateral maritime exercise, Malabar is designed to enhance dynamic cooperation between the Indian Navy, Japanese Maritime Self-Defense Force (JMSDF) and U.S. Navy forces in the Indo-Asia-Pacific.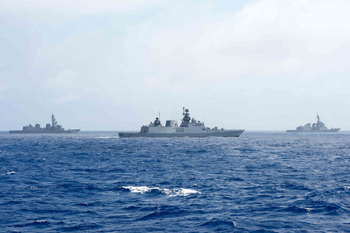 The Indian Navy Shivalik-class stealth multi-role frigate INS Sahyadri (F 49), foreground, and Japanese Maritime Self-Defense Force (JMSDF) ships JS Harusame (DD 102), left, and JS Ashigara (DDG 178) transit the Philippine Sea at the conclusion of Malabar 2016. A trilateral maritime exercise, Malabar is designed to enhance dynamic cooperation between the Indian Navy, JMSDF and U.S. Navy forces in the Indo-Asia-Pacific.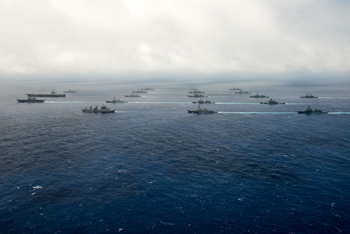 PHILIPPINE SEA (June 17, 2016) Malabar 2016 participants from the Indian Navy, Japanese Maritime Self-Defense Force (JMSDF), and U.S. Navy sail in formation. A trilateral maritime exercise, Malabar is designed to enhance dynamic cooperation between the Indian Navy, JMSDF and U.S. Navy forces in the Indo-Asia-Pacific.
As the 100,000 ton US aircraft carrier USS John C. Stennis which carries F-18 fighter jets, joined the naval ships of Japan and India in the seas off the Japanese Okinawan island chain for exercise Malabar 2016, a PLA Navy (PLAN) spy ship was observed monitoring the naval drill. With her extensive satellite program, China could easily monitor such movements but apparently China chose to deploy the observation ship to observe the multi-nation manoeuvres more closely and perhaps intercept communications. Submarine hunting patrol planes were also launched from bases in Japan as part of the exercise. USS Stennis has been followed by the Chinese spy ship during patrolling the South China Sea (SCS) and followed it to Malabar 2016 area. "There is a Chinese vessel about seven to 10 miles away," Captain Gregory C. Huffman, commander of the Stennis, told reporters aboard the carrier after it recovered its F-18 jet fighters taking part in the exercise, adding that the Chinese ship had followed the US aircraft carrier from the SCS. Typically following the policy of guile and deceit, Chinese Foreign Ministry spokesman Lu Kang said he was unaware of the situation. When the PLAN vessel got close to Malabar 2016, a Japanese Maritime Self Defense Force (MSDF) officer said that USS Stennis would act as a decoy by sailing apart to draw the PLAN ship away. The Indian contingent participating in Malabar 2016 comprises four ships that reached the exercise area sailing through the SCS with stops in the Philippines and Vietnam.
The Chinese action of tailing the US ships and spying over Malabar 2016 is typical of a leech. But considering her overall conduct in the region in recent times, including the recent incident in vicinity of Senkaku islands, she could qualify more aptly acting as a 'bullying leech'. Japanese-controlled Senkaku islands (also claimed by China and Taiwan) in East China Sea (ESC) lie some 220 km northeast of Taiwan, where in a separate incident on June 9 another PLAN warship 'Jiangkai' entered the Japanese territorial waters south of its southern Kyushu island, according to a Japanese government official. China claims entire ESC, as also major part of the SCS with scant regard to the EEZ and claims of countries like Malaysia, the Philippines, Taiwan, Vietnam and Brunei. But the incident in vicinity of Senkaku Islands is different from previous Chinese provocations wherein China this time deployed a PLAN warship compared to earlier provocations where only Coast Guard vessels and civilian fishing vessels were employed; incremental upgrade in China's bullying tactics.
China claims that both these PLAN ships (one spying over Malabar 2016 and other in waters of Senkaku Islands) were sailing following the freedom of navigation principal in international waters. This reasoning by China is laughable since she has consistently flouted international norms and laws, including UNCLOS. She has arbitrarily declared Air Defence Identification Zones (ADIZ) in the ESC and appears wanting to do the same in SCS in later timeframe - after she has consolidated militarily in the region because of which she is pushing territorial claims in the SCS. Chinese aggressive expansion to effectively control SCS is also linked to her nuclear strategy. Topographical conditions in SCS would permit Chinese submarines to effectively submerge in the deep waters quickly; Chinese nuclear submarines have been probing SCS and the Indian Ocean and China eventually aims to advance SSBNs from SCS to Pacific Ocean as well as the Indian Ocean. There are some 200 islands stretching from Japan's main islands through the ECS to within 100 km of Taiwan, which China is systematically working to dominate incrementally for access to the Pacific; for outward projection of her naval power and as supply line to the rest of the world's oceans. China appears to be somewhat rattled by Malabar 2016 held in an area which she claims as her own backyard, however illegal her claims may be. Why China is acting like a bullish leach and indulging in more provocations has multiple reasons including her quest to become a "Great Power" as announced by her, any which way. High on her economic and military clout, she has illusions of bulldozing her way through with no opposition. She appears to be rattled with Malabar 2016 held in Western Pacific and views participation of US-Japan-India a challenge aimed at curbing Chinese ambitions. It is in this context that China indulged in the twin actions against India as a warning: Chinese Advanced Persistent Threat (APT) group Suckfly cyber attacked Indian government and commercial organizations, defence establishments being the main targets, and; some 250 PLA soldiers entered Yangste, East Kameng district of Arunachal Pradesh on June 9 and engaged with a mild scuffle with India troops. The second worry of China is that ruling on the territorial claims of Philippines filed in 2013 against China over disputed areas in SCS; Manila seeking a ruling on its right to exploit waters in its 200-nm EEZ, as allowed under UNCLOS is to be delivered by the Hague-based Permanent Court of Arbitration shortly. China has been has been deflecting international arbitration in all its illegal claims. Should Philippines win her claim even partly, other countries facing similar Chinese obduracy may follow suit. During the China-ASEAN special meeting of foreign ministers hosted by China on June 14 in Kunming, ASEAN issued and then retracted a strongly worded joint statement critical of China's actions in the SCS. It indicates China will use her total economic might to mould opinions. The world needs to take note and prepare accordingly.