By Lt. General P.C. Katoch (Retd)


Former Director General of Information Systems, Indian Army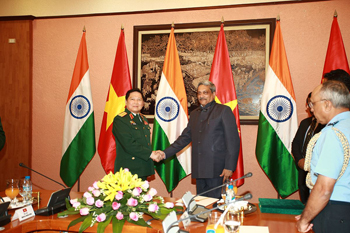 Defence Minister Manohar Parrikar with Vietnamese Defence Minister Gen Ngo Xuan Lich in Hanoi on June 5, 2016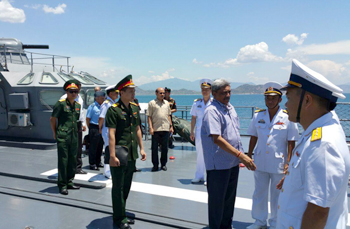 Defence Minister Parrikar on board Dien Tien Hoang at Cam Ranh Naval Base in Vietnam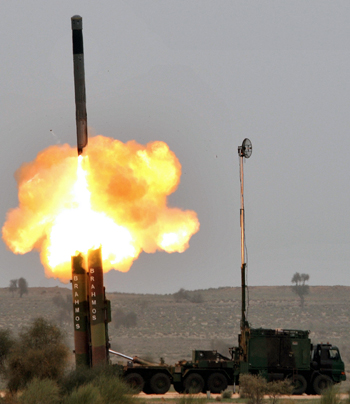 Indian Army unit successfully launched BrahMos missile, Rajasthan on March 04, 2012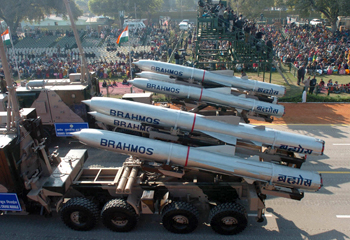 BrahMos Missile system
Defence Minister Manohar Parrikar's recent visit to Singapore, including attending the Shangri-La Dialogues further enhanced the revised Defence Cooperation Agreement 2015 and India-Singapore Joint Declaration on Strategic Partnership signed during the visit of Prime Minister Narendra Modi to Singapore in November 2015. Speaking at the Shangri-La Dialogue Parrikar said that however small or "however powerful" a country may be, "no commerce or commercial activity takes place in a highly tense (region), adding, "And I think it is in the interest of everyone, including China, to ensure that the peace remains in this region."
Later Parrikar met Minister for Defence of Singapore Dr Ng Eng Hen andto co-chair the inaugural Singapore-India Defence Ministers' Dialogue (DMD), the joint statement other than spanning the full range to upgrade bilateral relations, included: reaffirming India's vital role in the security of the Asia-Pacific region, in particular through the ASEAN Defence Ministers' Meeting (ADMM)-Plus platforms; emphasis on importance of international cooperation in tackling transnational security threats, renewing their commitment to cooperate in counter-terrorism efforts; shared commitment to maintaining freedom of navigation in international waters, the right of passage and overflight, unimpeded commerce and access to resources in accordance with recognised principles of international law, especially the United Nations Convention on the Law of the Sea (UNCLOS), and agreement on the need to evolve protocols and norms of behaviour in the air and maritime domains aimed at building confidence, defusing tensions and reducing the risks of miscalculations. All this is in the face of China's aggressive behaviour in the South China Sea (SCS), arbitrary extension of EEZ, plus illegally reclaiming reefs, militarization of the region and even exercising her Special Forces for operations in the SCS.
Just before Parrikar's visit to Singapore, President Obama had made his maiden historic visit to Vietnam and announced lifting of the 41-year old arms embargo that was imposed at the end of Vietnam War in 1975. Trade between US and Vietnam exceeded US$ 45 billion last year. Raising the embargo on military equipment will likely lift bilateral trade to over $70 billion in next five years. Concurrent to the Shangri-La Dialogue, came the news that India is set to sell the BrahMos missiles to Vietnam. The news was more prominently headlined in foreign media; India is set to export one of the world's fastest anti-ship cruise missiles (BrahMos) to Vietnam.
According to Jane's Defence Weekly India had been keen to export the BrahMos for years but met resistance from Russia over intellectual property rights issues, which have been now resolved. Possibly there were other geopolitical considerations as well but the aggressive stance of China definitely has aggravated the arms race in Asia-Pacific. A spokesman from BrahMos Aerospace told the Russian news agency TASS, "We expect that those friendly nations with whom neither India nor Russia have any conflict would be keen on buying these missiles".
Significantly, in February this year Vietnam received the fifth of six Kiloclass submarines that Vietnam has bought from Russia; part of a deal Vietnam reached with Russia's Admiralty Shipyards for six Project 636 Kilo class diesel-electric submarines for $2 billion back in 2009. First of these submarines of Vietnam, considered one of the quietest diesel submarines in the world and designed for anti-submarine warfare and anti-surface-ship warfare, beganpatrolling the SCS last year.
During the recent visit of Defence Minister Parrikar to Vietnam, he metthe Vietnamese President, Prime Minister and Defence Minister to discuss new initiatives in the military sector. He reviewed the bilateral strategic partnership and new initiatives undertaken to further nourish cooperation in the military sector. With Prime Minister Minister Nguyen Xuan Phuc and his counterpart Defence Minister Gen Ngo Xuan Lich, he held high level bilateral talks on key military issues including possible sale of supersonic missile BrahMos to Vietnam and and reviewed the entire spectrum of defence cooperation initiatives. The major areas identified for working together are for upgrade of Soviet legacy systems, upgrade of Thermal Sights and Fire Control Systems for — BMP, T 54 and T 55 Tanks, upgrade of MI-17 / Mi-8 Helicopters, shipbuilding programmes, missile systems from India and software defined radios from Vietnam.
To take on China's increased hegemony in Asia, the sale of BrahMos to Vietnam is significant. At the same time, Chinese reservations and bellyaching against India exporting BrahMos missiles to Vietnam are laughable considering her persistent anti-India stance, collusive threat to India in conjunction Pakistan, and military and nuclear arming of Pakistan.