By Lt. General P.C. Katoch


Former Director General of Information Systems, Indian Army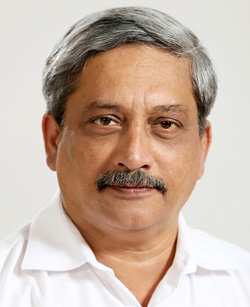 Union Minister for Defence
Shri Manohar Parrikar
The country, most prominently the private defence manufacturers await the new DPP with baited breath. The 10-member committee appointed by MoD was to submit its report on July 31. Their task reportedly was to draft an easy-to-comprehend and industry-friendly procedure that would cut down chronic delays in defence procurements. The private industry's apprehensions are genuine since year after year MoD has come out with DPPs with much fanfare but only with cosmetic changes retaining stranglehold of the DRDO headed official defence-industrial complex. The expansion of the DRDO with its seven technical clusters and host of new appointments with enlarged manpower indicates that this stranglehold of the DRDO-DPSUs-OFP may well get tightened further despite the fact that countries producing modern defence systems have done so through private industry, not through DRDO-like set ups. The bifurcation of posts of the DRDO chief and SA to RM is good as a concept but appointing both incumbents with DRDO background negates the advantage sought. The government proposal to appoint a Permanent Chairman COSC without any operational powers instead of a CDS with full operational powers again indicates that the bureaucratic control by MoD remains intact particularly in terms of defence procurements, without any contribution towards defence of India.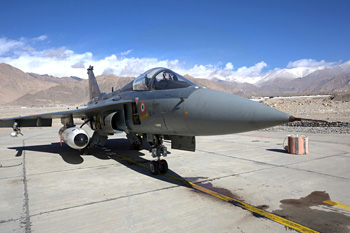 LCA Tejas
Photo Credit: ADA
It is no secret that despite joint secretary level officers of MoD on the boards of the DRDO-DPSUs-OFs, our defence-industrial complex has remained in pathetic state, obviously because of rampant corruption, this being the very reason why the military is being kept away from MoD and the official defence-industrial complex. Not without reason a former diplomat who started as an IAS officer in MoD says his first briefing was always look for what are the defence acquisitions in the pipeline and how much money could be made. The 2011 DPP made plenty promises including review of 'Make' procedure, separate fund to resource public and private sectors, SMEs and academic and scientific institutions to support R&D for defence but all these promises remain largely unfulfilled. In such backdrop, it would be a wonder if the new DPP actually goes beyond cosmetic changes. Of course a draft offset policy was put into limited circulation by MoD in end April for comments of industry associations; which ones – details not known.
Now it is well known that offsets are incidental to the procurement and import of weapon systems and defence equipment. With massive equipment voids in our military, plenty imports will be required for many years in addition to Make in India. The latter too will require imports if the quantum of imported components of Tejas are any indication. To this end, the offset policy is important and must be an intrinsic part of the DPP. So what comments were expected on the offset policy in absence of the new DPP? Did the committee release the draft offset policy earlier by default or was it on purpose? If the new DPP is what the committee was tasked to draft, why not ask for comments of the draft offset policy together with the draft DPP? The question also arises do actually need a separate offset policy and why can it not be part of the DPP itself because any mismatch would have obvious implications unless that is precisely intended. One wonders whether disjointed actions like these are on purpose. The Prime Minister announced the Make in India on August 15 last year but one year later we don't yet have a DPP that facilitates Make in India in the defence sector. As a consequence with all the trumpeting about liberalization of FDI in defence, the total offers to-date are a measly Rs 48 lakhs.
So what should we be looking at in the new DPP? Sensibly drafted it should cater for: meeting the requirement of the armed forces; providing level playing field for both the official defence-industrial complex and the defence industry with emphasis more on R&D with respect to the former and focused commercialization by latter – encompassing both defence production and procurement; lay down clear division between the public and private industry; laying down how much in advance and in sufficient detail what products and technologies are required in what future time-frame by the military in order to provide sufficient and competitive time to undertake R&D and development; including the offset policy as an intrinsic part; define structures and organizations outside the MoD to implement the defence production and procurement policies. On balance, the need of the hour is to have not just a DPP but a DPPP – a composite Defence Production and Procurement Policy. As to the question by when this is required, it was needed a decade back.