By Lt. General P.C. Katoch


Former Director General of Information Systems, Indian Army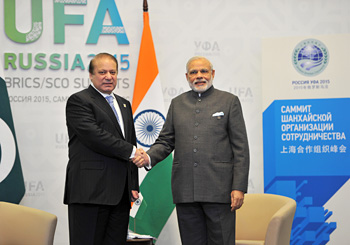 The Prime Minister, Shri Narendra Modi meeting the Prime Minister of Pakistan, Mr. Nawaz Sharif, on the sidelines of the SCO Summit, in Ufa, Russia on July 10, 2015.
Photo Credit: PIB
Trust the media to go berserk anytime PM Modi is likely to meet. So it was expected that when they did meet in Ufa, Russia on the sidelines of the BRICS and SCO summits on July 10, the media went overboard declaring it was a tremendous 'breakthrough'. A closer scrutiny, however, left one wondering where the 'break' was and what went 'through'. It was not that Nawaz arriving late for the meeting and his limp body language were indications there would be little change, but the cross-border firing and nuke rattling by the Pakistani Defence Minister prior to the meeting were signs enough that the zebra would not change its stripes, especially with the reassuring hand of China and US on its back.
When Xi jinping said support to Lakhvi was based on facts, he was confirming the fact that Lakhvi and LeT are also Chinese proxies. Then you had recently US Marine Corps General Joseph Dunford, nominee for US Joint Chiefs of Staff, telling the Senate Armed Services Committee that Pakistan continues to rely on terrorist outfits as proxies to serve as an instrument of national security policy, but asserted that US financial and military assistance to Pakistan will continue. All this is hardly surprising to India, other significant development being Obama admitting during an address to Pentagon that the US has indeed been training the ISIS. Getting back to the Modi-Nawaz meet, the clapping over Nawaz inviting Modi to attend the SAARC summit in Pakistan during 2016 is without cause too because Nawaz Sharif simply had no other choice, India being a vital member of SAARC.
After the bilateral meeting between the two Prime Ministers, Foreign Secretaries of India and Pakistan, S Jaishankar and Aizaz Ahmad Chaudhry, issued a joint statement saying that the meeting was held in a cordial atmosphere, the two leaders exchanging views on issues of bilateral and regional interest, and agreeing that both India and Pakistan have a collective responsibility to ensure peace and promote development. And in doing so, they were prepared to discuss all outstanding issues. Both leaders condemned terrorism in all its forms and agreed to cooperate with each other to eliminate this menace from South Asia. They also agreed on the following steps to be taken by both countries:
Meeting in New Delhi between the two NSAs to discuss all issues connected to terrorism;
Early meetings of DG BSF and DG Pakistan Rangers followed by that of DGMOs;
Decision for release of fishermen in each other's custody, along with their boats, within a period of 15 days;
Mechanism for facilitating religious tourism, and;
Agreement to discuss ways and means to expedite the Mumbai case trial, including additional information like providing voice samples.
Nawaz Sharif reiterated his invitation to PM Modi to visit Pakistan for the SAARC Summit in 2016, which Modi accepted. Significantly, post the Prime Ministers meet, Nawaz Sharif ducked reporters asking him any questions related to terrorism including the definition of terror – which again is no surprise. It has been amply proved time and again that the political authority in Pakistan is a puppet in the hands of the military-ISI, as latter hold all the aces, and dictate the foreign and defence policies. With the China-Pakistan sub-conventional nexus, any progress on bringing the 26/11 Mumbai terrorist perpetrators to book may be misnomer. Basing hope on voice samples too would be premature as Pakistan can be expected to blatantly discard them, dubbing them fabrications. Haven't our successive Home Ministers and Foreign Ministers said time and again that more than enough evidence has been given to Pakistan with respect to 26/11? For the meeting between the NSA's to bear any fruit, first agreement on the definition of terrorism needs to be arrived at, which is impossible with Pakistan's state policy of terror. Besides, Pakistan will continue to deny Dawood Ibrahim is in Pakistan or for that matter Pakistan is sponsoring terrorism against India. Any evidence provided would be deflected on 'out of control' non-state actors, continuing with the sob Story that Pakistan itself is victim of terrorism.
In fact, Pakistan should be expected to harp upon the Samjhauta blast, latest exhortations that India is sponsoring terrorism in Pakistan and issues like Siachen, plebiscite in J&K etc. Talks between DGMOs and between DG BSF and DG Pakistan Rangers too would likely follow similar pattern – Pakistan maintaining all cross-border firing and incidents are because of India initiating it. Pakistan will continue to deny it holds 54 POWs of India, leave aside they have died, were done to death or converted. Yes, some progress will likely come through release of fishermen held by both sides, after which the situation will revert to the earlier. Religious tourism would receive wholehearted Pakistani support since it helps the ISI spread radicalization and facilitates radicals in garb of tourists going underground in India – same as spectators from Pakistan to witness Indo-Pak cricket matches; remember some 500 Pakistani spectators witnessing Indo-Pak cricket in Mohali some years back simply vanished? On balance, the euphoria over the recent Modi-Nawaz meet at Ufa is hardly necessary.
It merely represents old wine in new bottle; old wine being the perpetual lies, deceit and backtracking by Pakistan. Not only Pakistani infiltration bids are continuing in the immediate aftermath of both PM meeting, Pakistan has refused to exchange voice samples of Zaki-ur-Rehman Lakhvi. The cake was taken by Pakistani NSA Sartaj Aziz announcing that both PMs had agreed to back channel diplomacy (Track II) to resolve Siachen, Sir Creek, Kashmir etc, which India has nailed as a lie.