By Lt. General P.C. Katoch (Retd)


Former Director General of Information Systems, Indian Army
After a long break, India finally has a full time Defence Minister in Mr Manohar Parrikar. The break has actually been extraordinarily long considering that AK Anthony as Defence Minister from October 2006 to May 2014 was actually a non-performer, or more aptly a negative performer, who brought both the military and the military-industrial complex to such sorry state that even former diplomats described the situation akin to 1962. From May 2014 onwards we had only a part-time Defence Minister in Mr Arun Jaitley and though many capital expenditure projects have been cleared and indigenization of defence equipment is being embarked upon, it will take focused effort to address and clean the system that has become hollow from within over past decades.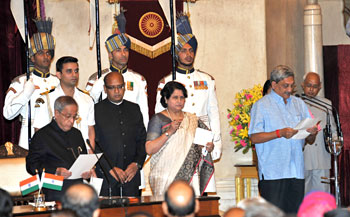 The President, Shri Pranab Mukherjee administering the oath as Cabinet Minister to Shri Manohar Parrikar, at a Swearing-in Ceremony.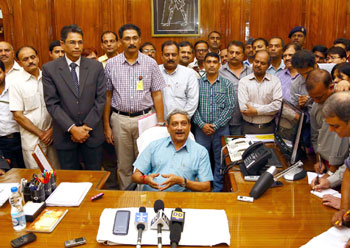 Shri Manohar Parrikar interacting with the media after taking charge as new Defence Minister.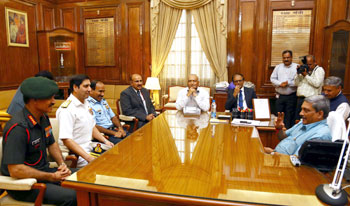 Shri Manohar Parrikar holding a meeting with the senior officials of the Ministry and Armed Forces after taking charge as new Defence Minister, in New Delhi on November 10, 2014. The Minister of State for Defence, Rao Inderjit Singh, the Defence Secretary, Shri R.K. Mathur, the Secretary (Defence Production), Shri G Mohan Kumar, the Secretary Ex-Servicemen Welfare, Shri Prabhudayal Meena, the Chief of the Air Staff, Air Chief Marshal Arup Raha, the Chief of Naval Staff, Admiral R.K. Dhowan and the Chief of Army Staff, General Dalbir Singh are also seen.
Photo Credit: PIB
Fortunately, the new Defence Minister has the reputation of a dynamo working 16 hours a day and his IIT background is ideal to accelerate the Indian Military's capacity building for Network Centric Warfare — in line with the Prime Minister's wishes to see a digitized military. For too long our MoD has been functioning with generalist bureaucrats. The Defence Secretary, not the Defence Minister, is charged with the country's defence and the Services HQ are labeled "Attached Offices" since the British Raj. This needs a drastic overhaul. The Defence minister needs to seriously consider replacing the MoD (like shutting the Planning Commission) with a Department of Defence (DoD) manned by military professionals (serving, on deputation or on permanent absorption) with appropriate civilian cells under the Defence Minister instead of an MoD — akin to the Railway Board manned by railway professionals. To bridge the vital void of integration, HQ Integrated Defence Staff (IDS) should be completely merged with the MoD as recommended by many study reports, or more appropriately form part of the proposed DoD. This will also fill the absence of an institutionalized strategy formulation set up in the existing MoD and kill the civil-military divide that is officially not acknowledged but actually has been growing drastically. A Chief of Defence Staff (CDS) needs to be needed on priority more to synergise the military rather than the single point advisor to the political authority. The need for a CDS is distinct from the PM meeting Service Chefs every month. All this would need the 'Rules of Business' to be amended, in addition to let the CDS speak in single voice for the military rather than generalist bureaucrats arbitrate on matters military.
Defence Ministers in the past have defined India's strategic interests extending from the Persian Gulf in the west to the Straits of Malacca in the East and from the Central Asian Republics in the North to the Equator in the south. Where we have failed is in terms of strategic transformation. A priority task should be to define a National Security Strategy (NSS) followed by a Strategic Defence Review (SDR). The foremost need is to enunciate the NSS to shape the environment in India's favour. In doing so, organizations and entities like the MoD, MHA, Military, Economic Ministries, Department of S&T, DAE, ISRO etc need to be closely integrated. Threats and vulnerabilities need to be taken into account. While threats are mostly identifiable, vulnerabilities may not be clearly identifiable as latter are only indicators. Challenge of implementing NSS lies in preventing vulnerabilities transforming into threats using non-military elements of national power. The NSS should include: one, India's political aims goals in terms of power projection, promoting security, economic, technology, environmental and bio-diversity interests; two, India's interests in other countries and regions extending outwards from South Asia; three, interests and relationship matrix with major powers and the UN; and four, threats, challenges and competitors to India's interests in respect of above paradigms. Like NSS of any country, there would also be a need to include following classified parts: first, strategy to deal with competition and challenges by setting time bound objectives in diplomatic, economic, technology, and defence and security fields vis-à-vis the competitors; second, identify economic, strategic, military and technology leverages - inter-se priorities of countries; third, lay down strategic choices for entering strategic partnership in the short, mid and long term context; fourth, review of internal dynamics of India, its linkages with trans border threats and challenges posed for the security forces including assessing degree of expected involvement of armed forces in the internal dynamics. The Strategic Defence Review (SDR) must immediately follow up from the NSS though work on both can progress simultaneously. The SDR should state present military strategy as derived from NSS and project into the future. The NSS could be broadly relevant up to next 15 years and the thinking into period beyond that may be termed as vision.
The SDR should comprise: analysis of present military strategy and revised goals; related emerging technologies and consequent revolution in military affairs (RMA); mesh future conflict spectrum and the battle space milieu; compare above with roles and individual responsibilities of the Army, Navy and Air Force, leading to development of joint force capabilities including for network centric warfare (NCW). Future military perspective (short, mid and long terms) or joint military vision and military missions so developed would lead to formulation of LTIPP based on integrated systems dynamics and force development imperatives. The classified portion of the SDR should include: adversaries or countries that are in security competition, cooperation and friends; comparative evaluation of the nature of threats or competition; threat from competing strategic and security alliances; goals and objectives of bilateral, multilateral and international defence cooperation; policy on role of armed forces in asymmetric threats and internal conflict; strategy for protection of critical infrastructure from cyber threats; defence related aspects of cyber-space, space and perception warfare, and; strategy for energy, water and food security. Axiomatically, appropriate Core Groups would need to be established working out the NSS and SDR.
There has been debate in the media about the need for a National Security Commission. We have a National Security Council that barely met under the previous government while the NSAB was also working part time until recently. Whether a new National Security Commission is appointed or the existing National Security Council is reorganized (acronym for both being NSC), it has to be a dynamic organization working on 24 x 7 basis. Besides being headed by the Prime Minister himself as the ex officio Chairman, a Deputy Chairman on permanent basis, CCS and NSA as members, with full time members and staff from all required fields would be required. Simultaneous to the NSS and SDR, we need to holistically review Comprehensive National Security, to include: personal security; community security; food security; health security; military security; economic security; energy security, political security, and; environment security. The Comprehensive National Review would also address all non-traditional threats.
Government website of Ministry of Industry and Commerce states that 50 percent of all defence equipment held by our military is 'obsolete'. This needs to be tackled expeditiously. We should not be making the mistake of only looking at big ticket projects only. What we actually need is a Revolution in Military Affairs (RMA) spanning the military and matters military vertically and horizontally. An RMA under the directions of the Prime Minister would be facilitated with the personal equation that Mr Parrikar has with Prime Minister Modi. In terms of the defence-industrial complex, we also seem to be going wrong in further 'commercializing' the DRDO. This has been the problem all along. What is needed is the DRDO focusing on R&D synonymous with their name whereas the commercial part needs to be left to the civil industry under guidance of the government. Manning of decision making and management level appointments in DRDO, Defence PSUs, and Ordnance Factories by military professionals (military being the user) is a must, which has been avoided by these organizations for vested interests. Indigenization must be given a boost with a dynamic road map for R&D, producing state-of-the-art arms, equipment and technologies to be developed in accordance specified time lines. Relaxation of FDI in defence beyond 49 percent for state-of-the-art technology is a welcome step but concurrently the Defence Procurement Procedure (DPP) too needs to be simplified to make it unambiguously attractive to investors, both indigenous and foreign.
India has also largely neglected 'military diplomacy' to promote national security interests that is distinct from coercive diplomacy and implies peaceful application of resources from across the spectrum of defence to achieve positive outcomes in developing the country's bilateral and multilateral relationships. Though application of national power is through domains of diplomacy, information operations, military and economic, military diplomacy can contribute in all the four. The security imperatives for India are multiple and dynamic with a volatile neighbourhood including an aggressive China and an irrational Pakistan that refuses to stop following a state policy of terrorism. The last decade has been characterized with utter neglect of the defence sector and we need to take focused corrective actions.