By General V.P. Malik (Retd)


Former Chief of the Army Staff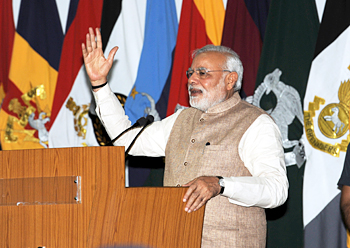 The Prime Minister, Shri Narendra Modi addresses the officers, soldiers and air warriors of the Indian Armed Forces, at Leh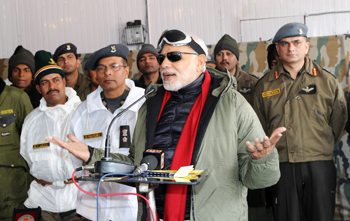 Prime Minister, Narendra Modi addressing the Officers and Jawans of the Indian Armed Forces, at Siachen Base Camp, during his surprise visit to Siachen
The Union Minister for Defence, Shri Manohar Parrikar and the Chief of Army Staff, General Dalbir Singh visiting the Red Horns Division, in Assam
Photo Credit: PIB
When the National Democratic Alliance (NDA) came into power in the Centre on 26th May 2014, the general perception and expectations in the armed forces were that it will follow a pro-active policy on the external security front and will be more sympathetic on the welfare issues of the armed forces personnel. The ex servicemen expected that their long standing demand of One Rank One Pension would be met in a few months, if not in weeks.
In a couple of my chance meetings with Narendra Modi during his election campaign, I had also requested for his attention to India's defence industry in order to reduce the high level of dependency on imported weapons and equipment, and on construction of War Memorial in New Delhi. He was prompt to include these items in his agenda.
How do I see the performance of the Modi Government on its first anniversary? Have achche din come for the armed forces?
During this first year, the Government lost considerable time by first giving temporary charge of the Ministry of Defence to Arun Jaitley, already burdened with Finance and two other ministries, and then appointing the present incumbent, Manohar Parrikar.
The Ministry of Defence has a huge range of policy making and implementation responsibilities: employment, upkeep and modernization of the armed forces, defence research and development, defence acquisitions, procurement and production, welfare of ex-servicemen, and so on. It has a unique organization and work culture, quite different from any other nation of the world. Since none of our political leaders have much knowledge or experience of military organizations, their functioning and traditions, both ministers lost considerable time in learning the ropes. I feel that Defence Minister Parrikar, who has never been in the Centre earlier, is yet to settle down while engaged in fire fighting on issues which get highlighted in the media every day. A major lesson for the political parties, when in opposition, would be to follow the British 'shadow cabinet' system.
The Modi Government has certainly made a visible change in the operational strategy on the borders. Field commanders have been given free hand to give a befitting response whenever Pakistani border troops violate the ceasefire on the Line of Control or international border and try to push infiltrators to our side. The Chinese transgression at Chumar and Demchok on the Line of Actual Control saw a swift and strong reaction by the army. It forced the Chinese to withdraw. During Prime Minister's recent visit to China, he has also flagged India's strategic and border related security concerns with China squarely.
Defence Minister Parrikar, unlike his UPA predecessor who was extremely cautious and took no decisions, appears to be a determined and fast decision maker. By holding regular meetings, he has got the acquisition and procurement machinery moving to make up the accumulated deficiencies of weapons and equipment. The Defence Acquisition Committee chaired by him has accorded 'Acceptance of Necessity' for procurement projects worth over Rs 1,00,000 crore. But he is faced with two major obstacles. These are:
Lack of budgetry support. The 'capital budget' in last two financial years has been barely sufficient to meet the 'committed liabilities'. Unless the defence budget is enhanced substantially, there is hardly any scope to acquire new equipment. This is also the reason why the raising of the mountain strike corps for the Northern front has been stalled.


Most of his efforts to expedite procurement issues continue to face the bureaucratic sloth for which the Defence Ministry is well known. So far, there is no evidence of any fundamental changes made its systems, processes, work culture in the Ministry and its relationship with the armed forces.
On two core (and urgent) issues which deeply impact military organizations, upkeep and their functioning, the Modi Government has taken no action so far. There is no progress on the Naresh Chandra Committee Report whose implementation is expected to improve civil military relations within the Ministry, enable more cohesive decision making, and promote inter service integration and jointmanship. There has been no attempt to formulate and articulate a National Security Strategy, which is an essential guide for the revision of military force levels and doctrines to meet new strategic challenges. There is no progress on the Cyber, Aerospace and Special Forces Commands.
On the defence industrialization front, there has been much talk and inducement to persuade foreign Original Equipment Manufacturers to bring the required technology and establish manufacturing partnership in India. The FDI limit has been increased from 26 to 49 per cent. But there is hardly any action on the ground. India is 142nd in the 'Ease of Doing Business' Index. According to our present Defence Procurement Procedures (DPP), it takes anything between 80 to 137 weeks to complete procurement procedure up to placing of orders. There is a need to work out a comprehensive strategy and a holistic policy framework for this goal. This cannot be done by the Ministry of Defence alone. In May 2015, the Defence Minister has appointed a committee to undertake a review of the procedures and processes with a view to removing the bottlenecks and making the system more responsive to the needs of the armed forces. This committee is also expected to review the measures necessary to expedite 'Make in India' requirement of defence equipment. In my view, it will not be able to take a holistic view on defence industrialization because there are many other aspects like land acquisition, environment, tax incentive etc involved to set up defence industry.
On the other ex servicemen welfare issues, the Government has given one positive indication. It has stopped the Directorate of Ex Servicemen Welfare (DESW) from challenging every decision of the Armed Forces Tribunals given in favour of the petitioners in the Supreme Court. But due to inordinate delay on the OROP issue and Defence Minister's continuation with the much cussed DESW and its attitude, he has managed to alienate this clientele further.
Under Modi Government, Achche din for the armed forces could be on the horizon. These are not in yet.