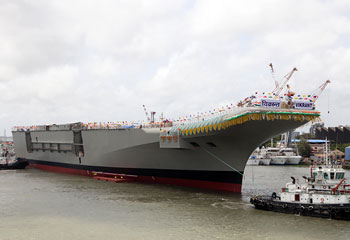 Launching of IAC Vikrant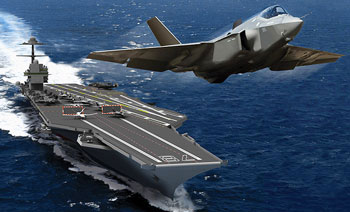 EMALS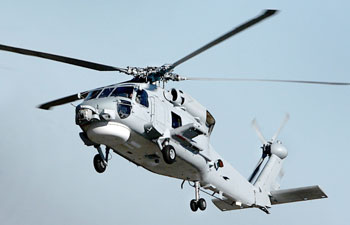 S-70B SEAHAWK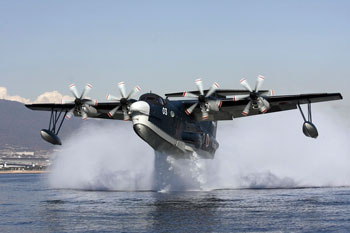 US-2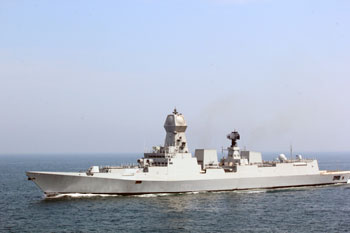 INS Kolkata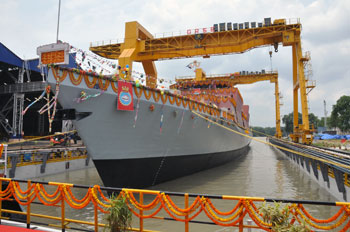 Kavaratti - Fourth ship of Project — 28 (Anti Submarine Warfare Corvette) launched at GRSE, Kolkata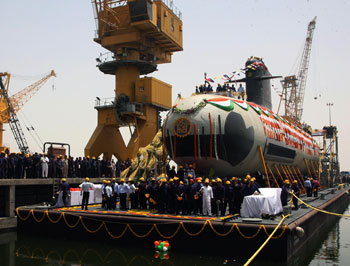 First of Scorpene Submarines-Kalvari 'Undocked'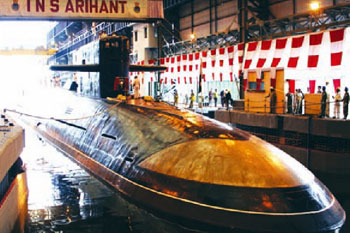 INS Arihant SSBN
Past one year has witnessed a positive push forward by the Government for the dormant schemes, especially for the sub-surface fleet where the capability gaps are widening, is indeed re-assuring. While the lost time cannot be made-up, it is hoped that the momentum gathering now should bring Maritime Capability Perspective Plan back on track. While the brief resume in the succeeding paragraphs is by and large based on the recent pronouncements and the approvals of Defence Acquisition Council. Procurement and acquisition cycles run its own course with imponderable timelines.
Indigenous Aircraft Carriers
In the recent past the Government has accorded sanction for phase II for 40,000-tonne IAC-I to be commissioned as INS Vikrant and is currently under construction at Cochin Shipyard Ltd. The project has suffered undue delays, time and cost over runs, is now slated to be inducted by 2018-2019 only.
Considering the complexity of design development and construction, systems integration, etc. the gestation period for IAC-II, to be christened as INS Vishal, could well span over 10-12 years. The project is receiving attention at the highest level with a view to ensure that its construction begins by the time Vikrant is rolled out.
During recently concluded Naval Aviation Seminar 2015 on April 30 and May 01, 2015 there were intense deliberations on 'Future Aircraft Carrier and Carrier Borne Operations' with the sole objective of hastening the design development and construction of Vishal. Mr Scott Forney, Senior Vice President, General Atomics made a comprehensive presentation on emerging technologies for future aircraft carrier and unveiled the powerful and futuristic Electro-magnetic Aircraft Launch System (EMALS). After several phases of successful trials ashore, EMALS has been approved for induction on board US Navy's under construction supercarrier USS Gerald Ford. IN with the tacit support of the Government are closely monitoring the developmentand have shown keen interest for induction of EMALS on IAC II, INS Vishal.
Multi Role Helicopters
After several years of ups and downs, finally the MRH programme was reduced to a tender for just 16 aircraft which was opened on December 4, 2014 along with an option clause for another eight as immediate replacement for already phased out Seaking 42 and 42A during 1990-91. The final cost negotiations are still in the works with no defined timelines. Even if the contract for 16 S-70B MRH is signed now the deliveries will only materialise from 2018 onwards.
To keep the Advanced Light Helicopter (ALH) of HAL afloat, IN is also buying 16 ALH despite the unresolved technical issues of wing folding mechanism and take-off weight.
Naval Multi Role Helicopters
The original plan for acquiring 123 NMRH from the leading global vendors has been recently re-categorised as "Buy and Make Indian". This is aimed at promoting Indian industry in the aviation sector to tie up with global majors for the technology transfer and joint venture arrangements for the indigenous production of the aircraft. The Government has ordered the capacity and capability verification of Indian industry to be cleared for participation in the tendering process. It is learnt that Tenders will be put out shortly.
Naval Utility Helicopters
A requirement to procure over 100 Naval Utility Helicopters (NUH) from the leading global manufacturers was identified in the past. This programme was however, scrapped last year and the 'Buy and Make Indian' categorisation was awarded to it.
Consequent to revised categorisation, several top Indian companies including TATA, Mahindra and Anil Ambani-led Reliance Group have displayed keen interest to participate in the nearly USD 1.5 billion NUH programme. A large number of domestic firms have responded to the 'Request for Information' issued by the Government in October 2014. Most of the leading Indian industries, such as Punj Llyod, Bharat Forge, Mahindra Aerospace, Reliance Defence and Aerospace, TATA Advanced Systems and HAL have responded.
European major Airbus, Agusta Westland, Bell Helicopters and Sikorsky, as also Russian Kamov 226 helicopters are reportedly in negotiations with Indian industry to finalise their participation in "Make in India" initiatives for both NMRH and NUH.
US-2i Amphibious Aircraft
IN has shown interest in acquiring 12 Amphibious Aircraft US-2i built by Japanese firm ShinMaywa. The $1.65 billion deal is being progressed as part of the Services Capital Acquisition Plan (SCAP) for 2015. IN requires the aircraft for search and rescue missions, inter-island communication, rapid response duties and reconnaissance of islands.
Project 15B, Guided Missile Destroyers
Approval has been accorded for a follow-on programme of four more guided missile stealth destroyers as Project 15B. The Project 15B ships will retain the same hull form as for its predecessor, Kolkata class and most of its systems. There will be some upgrades, structural changes in the superstructure to improve stealth, better sound and infrared suppression. The displacement of each ship will be approximately 7,000 tons, a 200 ton addition over Kolkata class. Construction of the first of the class, INS Bengaluru, is already well underway.
Project 28, Anti-Submarine Warfare Corvettes
The construction of Kamorta class next-generation anti-submarine warfare corvettes under Project 28 at GRSE is progressing most satisfactorily. All the four corvettes are planned to be handed over to the Indian Navy by 2017.The basic design for Project 28 was specified by the Directorate of Naval Design which was converted into detailed design by GRSE.
Next Generation Missile Corvettes
To augment existing strength of missile corvettes, a brand new project of six stealth next-generation missile vessels (NGMVs) has been approved. The project has been categorised as the 'Buy (Indian)/Buy and Make (Indian)'. The design and technology specifications are under finalisation. The main envisaged capabilities of the new NGMVs will include stealth features, low radar, acoustic, magnetic and IR signatures, high endurance and credible advanced mine detection and anti-air capabilities.
Mines Counter Measures Vessels (MCMVs)
The Defence Acquisition Council has recently given the go-ahead to Goa Shipyard Ltd. for the construction of all eight MCMVs with the option of additional ships. The project is to replace 12 aging Pondicherry and Karwar class minesweepers by 2020. IN requires at least 24 MCMVs to clear mines laid by enemy warships and aircraft to blockade harbours during war.
Project 75I — Conventional AIP Submarines
With a view to re-visit the dormant Project 75I, a high-level MoD committee had conducted a survey of Indian shipyards, both in public and private sectors including MDL, GRSE, Hindustan Shipyard Ltd., GSL, L&T, ABG Shipyard and Pipavav Shipyard to build six next-generation submarines with Air Independent Propulsion (AIP) System by 2022. Reportedly, the Committee has shortlisted L&T and Pipavav Defence & Offshore Engineering Company, in which the Anil Ambani Group firm Reliance Infrastructure has recently acquired management control. The tender under 'Buy and Make (India)' categorisation will be issued for transfer of technology with leading foreign collaborators and substantial manufacturing in India.
The Project 75I submarines are expected to be bigger than the 1800-ton Scorpene class currently under construction at MDL, Mumbai. The AIP systems will enable greater underwater endurance besides incorporating stealth, land-attack missiles capability and other technological advancements.
Nuclear Submarines
Recently, Cabinet Committee on Security has approved plans for the indigenous development and construction of six nuclear-powered submarines. Arihant, India's first indigenously designed and constructed nuclear submarine currently undergoing sea trials is expected to join the Fleet by the end of the year.
The plan to add six nuclear submarines is a modification of Government's decision taken last year for Project 75I. This initiative is an amalgamation of six nuclear submarines into 30-years submarine force building and modernisation perspective plan approved by the Government way back in 1999, which includes six Scorpene-class diesel-electric submarines and refurbishment and upgrading of the Sishumar- and Sindhughosh-class submarines.
Conclusion
The recent review of the dormant schemes of IN's MCPP by the Government re-emphasises the imperatives for a stronger and rejuvenated IN to assume its strategic roles which is due to India's immense geographic advantage in the Indian Ocean. Tweaking the MCPP of IN by infusing newer initiatives of "Make in India" to promote greater indigenisation, already a strong USP of IN, across the board for all ongoing projects and behoves well for much needed rejuvenation of IN. Amalgamation of six nuclear submarines into the beleaguered 30-years submarine force building and modernisation perspective plan and alongside developing the ancillary shore support facilities, infrastructure and the all-inclusive Base could truly be a game changer.