By Lt. General P.C. Katoch (Retd)


Former Director General of Information Systems, Indian Army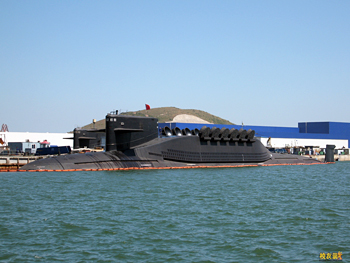 Chinese PLAN Type 041 Class Yuan Diesel-Electric Submarines SSK
China recently confirmed the sale of eight attack submarines to Pakistan, what is its biggest ever military deal estimated to be over US$5 billion. The submarines are reportedly export variants of the PLA's Type 39A - also known as Type 41 - Yuan-Class submarines, with a depth of 300 metres. Their weaponry will be tailor-made suiting Pakistan's naval requirements. The first four diesel-powered electric submarines will be delivered by 2023, and the rest by 2028. Four of the submarines are to be built at the Karachi shipyard, with the rest in China. According to Hu Wenming, Chairman of China Shipbuilding Heavy Industry the export of these eight attack submarines is aimed at promoting China's "One Belt, One Road" initiative, launched by President Xi Jinping in 2013, in which Pakistan is the fulcrum. Hu added he hoped exports of submarines to Pakistan would take place in the future "on a regular basis" and that China's "iron brother" plays a key strategic role in the neighbourhood.
According to reports from Pakistan, the deal will be financed by a low interest-rate loan from China to cover costs of the project, including the manufacture of four submarines at Karachi. The 3000 kms long China-Pakistan Economic Corridor (CPEC) which actually is China's strategic highway to the Indian Ocean. The CPEC is supposedly to service China's energy and goods demands from the Gulf albeit moving the same goods by sea is 11 times cheaper. CPEC is a masterstroke of Xi Jinping which gives China tremendous strategic advantage while costing little to the Chinese government: should Straits of Malacca and Sunda get blocked, China has CPEC as alternative; Gwadar as Chinese nuclear submarine base (being built gratis) dominates eastern end of Persian Gulf, giving leverage to China; CPEC connection to Pakistan's Omari naval base makes it accessible to China, giving greater domination over Arabian Sea coupled with Gwadar and Karachi, and; rail link of CPEC and multiple development projects provide avenue for movement and deployment of weapon systems, even rail mounted missiles to support future operations in the Indian Ocean Region.
Gwadar is the fulcrum where the CPEC and China's Maritime Silk Route (MST) converge, with strategic implications for India and the region. The China-Pakistan nexus does not bode well for India. The strategic lodgment of China in Gilgit-Baltistan and development of the CPEC has resulted in Pakistan heightening proxy war on both India and Afghanistan. It is pretty clear that China wants to keep India confined to South Asia and keep our economic development in check as she considers India an economic competitor. In her pursuit of revolution in military affairs (RMA), China went for mass development and deployment of submarines, giving greater precedence over acquiring aircraft carriers. China's sale of submarines to Pakistan would in all probability be deployed in the Arabian Sea to challenge Indian interests in the Indian Ocean region. Pakistan has already indicated plans to arm these Chinese submarines with nuclear weapons. In a related interesting development, Sergei Chemezov, CEO of Russia's Rostec State Corporation has indicated that his company is ready to strike a US$12 billion deal with India to manufacture six conventional submarines.
According to him, these these submarines with Air Independent Propulsion systems will be built under the P75-I project of India. Chemezov, close aide of President Putin said that Russia is India's close ally, not just business partner; Russia stood by India in its "darkest hour" and would do the same in future, if necessary. He stressed that it would never be possible for the American and Europeans to offer India what Moscow could, adding, "We are ready not just to deliver most serious weapons, most important weapons, but continue to give our state of art technology. Next year will mark 70 years of our relationship. It is a long time. There is no doubt that Russia has been India's most trusted friend who has also given us latest technology. Amongst other equipment, Russia leased the first nuclear submarine to us and now is giving the S-400 system that will be a game changer in the Subcontinent since it can take on aircraft and even drones at a range of 400 kms. However, there is little doubt that the Indian Ocean is fast becoming the centre of gravity of future conflict and the unholy China-Pakistan nexus will usher in much turbulence.