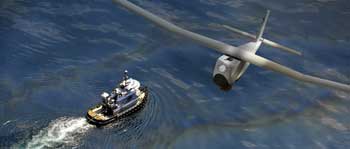 Aerovironment Darpa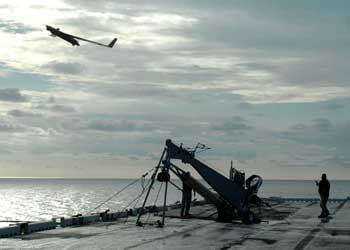 Boeing Scaneagle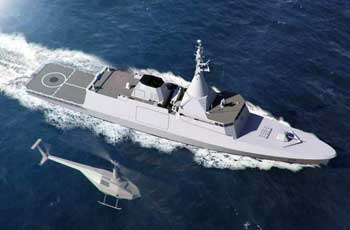 Airbus Tanan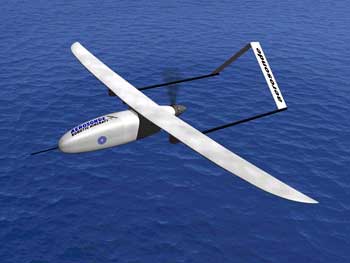 Textron Aerosonde UAV
In its largest stated requirement for unmanned aerial systems so far, the Indian Navy has announced that it is looking to procure at least 50 Naval Shipborne Unmanned Aerial System (NSUAS) for "Intelligence, Surveillance and Reconnaissance (ISR), sea-lanes of communication monitoring and coastal / EEZ surveillance, anti-piracy and anti-terrorism, assistance in search and rescue and assistance in maritime domain awareness".
While the navy has left out the type of UAS it is looking for — whether rotory or fixed wing, and type of launch/recovery — it has stated that the NSUAS should be capable of operating from Indian Navy warships of size of at least 50m upwards (with or without helo decks) and be capable of day/night operations. The Indian Navy, it must be said, has been in the market for a variety of different UAS over the years, including shipborne rotory wing vehicles, shore-based MALE/HALE vehicles and conventional shore-based vehicles to augment its fleet of IAI Herons and Searcher Mk.2s.
On the freshly charted requirement, the navy stipulates that NSUAS should be an autonomous UAS with small footprint and that provides intelligence, surveillance and reconnaissance (ISR) capability in the maritime domain. Further, "The NSUAS should be capable of flying either pre-programmed or operator initiated missions guided by the Global Positioning System and its onboard flight control system. The NSUAS is primarily intended for operations from ship, but should also be capable of operating from ashore. The operating speed, range and endurance of NSUAS under Indian Reference Atmosphere (IRA) in various roles envisaged from ship and shore be such that it enables accomplishment of above mentioned tasks."
The enormous surveillance demands on the Indian Navy, especially in light of assymetric threats that have increased exponentially especially on the Western seaboard, have necessitated fast-track decisions, so the navy may be looking for a quick solution.
Interestingly, the navy has kept its requirements fairly open, leaving the field to vendors to provide data on solutions that fit the broad requirements. For instance, the navy wishes vendors to stipulate space required for UAS operations on its ship, launch & recovery procedures, how much time it takes for both launch and recovery and how many men are required to participate in the process, whether there are any special tools, kit or handling equipment required for launch and recovery, what the permanent modifications/temporary equipment on deck necessary for carrying out launch and recovery may be, and whether there are any special mechanisms, tool, equipment required to manoeuver the NSUAS on deck and for stowage.
In terms of sensor payloads, the navy wishes vendors to state what type of EO/IR and AIS equipment could be installed and targeting parameter be made available to fire control systems, and crucially whether the NSUAS be integrated with a fully integrated maritime radar? Drawing from the 'Make in India' campaign currently on in the countr, the Indian Navy wishes interested vendor to specify "Critical technologies required and comment on its ability to absorb the UAS manufacturing technology at the levels of sub vendor/ supply chain elements in India through ToT from OEM and its partners."
The level of detail being sought in the RFI appears to indicate that the Indian Navy has formed a picture of what it wants, but cannot identify platforms just yet that can fulfil all those roles. Senior officials in the Navy said, "The RFI has been made deliberately ambitious. There will be some attrition on qualitative requirements as the programme progresses, but that is natural. The navy is basically looking for an easily launchable/recoverable platform from any platform at sea with a multirole sensory and communications capability that can be adapted for the Indian maritime setting and unique requirements of the Indian Navy."
While the Indian Navy will clearly see interest from global vendors, it is hoping to see interest from private players in India who have, over the past few years, demonstrated the ability to build unmanned systems and demonstrated them on ships too. The question of essence, however, is timelines and whether the navy is willing to stretch its timelines for an Indian-built solution, and whether full capability solutions even exist in country.
The Indian Navy's requirement comes at a time when the US DARPA is in the process of progressing its Tactically Exploited Reconnaissance Node (TERN) program. which envisions using smaller ships as mobile launch and recovery sites for medium-altitude long-endurance (MALE) unmanned aircraft (UAVs). According to DARPA, "Tern would enable on-demand, ship-based unmanned aircraft systems (UAS) operations without extensive, time-consuming and irreversible ship modifications. It would provide small ships with a "mission truck" that could transport ISR and strike payloads to very long distances from the host vessel. The solution would support field-interchangeable mission packages for both overland and maritime missions. It would operate from multiple ship types and in elevated sea states. DARPA and ONR envision Tern as improving aviation capabilities from smaller ships substantially beyond the current state-of-the-art. The program has three planned phases. The first two phases focus on preliminary design and risk reduction for the Tern system. In Phase 3, a performer would be selected to build a full-scale demonstrator Tern system for ground-based testing, culminating in an at-sea demonstration of launch and recovery."
While the Indian Navy has been closely tracking the TERN programme, it is not clear if will express official interest in further information under the aegis of current bilateral mechanisms.