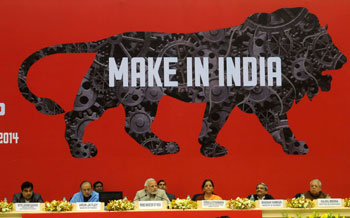 Prime Minister Narendra Modi has had multiple trysts with the armed forces since he took office in May 2014, showing an unprecedented interest in matters military and showing a willingness to be physically present with the forces. It began with his day on board the INS Vikramaditya, followed by his inauguration of the INS Kolkata in August last year. And in his third visit in just five months, he made a surprise visit to spend Diwali 2014 with Indian Army jawans and officers in Siachen. Some would say that inclination itself is half the battle won for the forces; a political leadership that empathises and values the forces enough to take the time out. But the appeal of the military stretches beyond sentimentalism. Prime Minister Modi sees the defence of India as possibly crucial to the reinvention of India's economy on fresh foundations of aggressive manufacturing and industrialisation. And that's where his 'Make in India' philosophy comes in. If PM Modi is the posterboy, 'Make in India' is without doubt the poster.
In a break from tradition, PM Modi has decided to inaugurate the Aero India 2015 show, an event traditionally thrown open by the Defence Minister of the day. Sources say it was former defence minister Arun Jaitley's suggestion to the PM that he call proceedings open at Aero India, where advanced systems manufacturers from India and around the world will be present and listening closely. The idea: to underscore and personally push the 'Make in India' idea for defence manufacturing. In fact, the Aero India show this year is officially titled 'the 10th international show on Make-in-India in aerospace, defence, civil aviation, airport infrastructure and defence engineering', a name that sums up the expansion of the show's scope and what the government is hoping to achieve through it.
SP's has learnt that Prime Minister Modi's message, to also be shared in document form at Aero India 2015, will be summed up in five broad points: First, that India intends to be the port of call for defence manufacturing. Second, that it is not only a vast customer for local offtake, but that it intends for manufacturing within the country to be exported to other customers across the world. Third, that procedures and processes for industrial licensing and investment control are being speedily rationalised to make India one of the friendliest countries for industrial investment, including greenfield ventures. Fourth, that the Indian private and public sector is primed and ready for an aggressive phase of joint development and co-production under the clauses of the Defence Procurement Procedure and other regulations. Finally, the pitch will be that local skillsets, resources, economies of scale and India's own reputation as a robust, reliable and reputable democracy make it a dependable ally in the field of manufacturing partnerships. The message is all set to be a powerful one.
In many ways, the Modi Government has already demonstrated that it means business. An MoD official said, "In order to give a boost to indigenization, the Defence Acquisition Council (DAC) recently decided that all the 384 light-utility helicopters needed by the Army and Air Force to replace the existing Cheetah/Chetak fleets will be made in India with foreign collaboration. And in order to give a boost to private sector participation in defence production, the government decided to replace the present fleet of 56 AVRO Transport of IAF by reserving the project for the private sector only." The message in these decisions hasn't been missed by industry, which sees enormous potential for business from these decisions, even accounting for the damage late decisions have clearly had on India's reputation as a whimsical procurer of armaments.
Prime Minister Modi, who handpicked Manohar Parrikar to be his defence minister took the decision keeping in mind that a technocrat with industrial and business acumen will be crucial to driving the 'Make in India' campaign, and that political leadership and strategic guidance will require aggressive follow-up on the ground, something that Minister Parrikar has been trusted with. Finance Minister Jaitley, who spent only a few months as Defence Minister in a dual role, will also be closely involved with the initiative. Prime Minister Modi demonstrated the importance of the MoD by allowing a part-time Minister while a suitable candidate for the full time role presented himself. The trio of Modi-Jaitley-Parrikar will be key to pushing the 'Make in India' concept in defence manufacturing.
Publicity material published by the 'Make in India' campaign office has made an ambitious, but realistic pitch: that India is either already or close to being a potential hub for the manufacture of advanced systems and platforms, including fighter jets, helicopters, warships, battle tanks and submarines. But the more important facet of the campaign will be electronic systems, high-performance sensors and communication equipment, strategic software and code, in addition to critical sub-systems and high endurance components. Strides have been made in component or part manufacture, but the government's intention is to make defence component and subsystem manufacture a success Story like the automotive ancillary and component Story in India starting in the new millennium.
The government has also demonstrated that it is willing to move swiftly on key decisions and has pledged that it won't let political compulsions play truant to strategic objectives or military preparedness imperatives. That remains a tough call in a country where most defence business has been politicised, though the current government through a demonstrated intention to link economic progress and defence preparedness, appears to at least be trying to move things to the next level. The question is whether all elements in an enormously ambitious and complex campaign will come together like the Prime Minister's troika hopes it will. The campaign thrust will draw from the PMO's influence in the areas of not just defence, but external affairs, finance, significantly commerce and other areas. Sources say the economics of defence and the Make in India campaign for defence are areas that all concerned ministers have been specifically briefed in detail by PMO teams. In other words, it's all systems go.