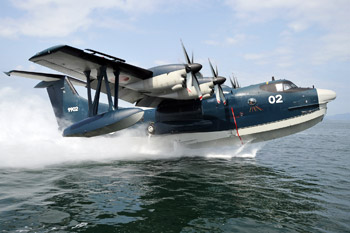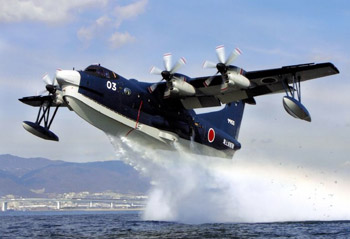 On May 29 in Tokyo, India and Japan decided to establish a Joint Working Group (JWG) to explore modality for the cooperation on the US-2 amphibian aircraft. The landmark agreement, which sees Japan for the first time agree to consider exporting dual-use equipment for use by the Indian military, does not specify a user, but it is well known that the Indian Navy has been in the international market since January 2011 for at least 15 amphibian aircraft. The Shinmaywa US-2, pitched as the most capable amphibian around, is costlier than comparable competitors, and comes with it the export restrictions that are part of Japan's constitution. However, negotiations have led to the company and the Japanese Government agreeing to work with India on hammering out the modalities. India's own track record in use of military equipment has gone a long way in achieving this. The Indian Navy requires amphibious aircraft for operations in its island territories in the Arabian Sea and Bay of Bengal for the entire gamut of operations, including surveillance, reconnaissance, maritime search and rescue, interdiction and anti-piracy/counter-terror. The flexibility and capabilities of the US-2 offer the Indian Navy the first ever such capability in the hiStory of its air arm.
The Japan Maritime Self-defense Force (JMSDF) operates nine US-2s that have been dispatched over 900 times for search and rescue missions so far. The US-2 is capable of taking off from water in 280-metres and landing in 310 metres—far less than any rigid runway requirement, giving the platform excellent STOL qualities. The US-2 has an operational range of 4,500-km and a cruising speed of 480 km/h.
Says Yasuo Kawanishi, General Manager, Business Development & Contract Department, Aircraft Division at Shinmaywa, "Only three countries can make amphibian aircraft: Japan, Canada, and Russia. However, only the US-2 can meet all of the diverse performance requirements in the market, namely, the capability to land on the ocean, carry a large number of people, and cover long distances. As a manufacturer of the US-2, we need to further reduce manufacturing costs. Because this aircraft was developed using national assets, we believe that it is necessary to expand its applications in Japan first. One of our suggestions is to equip the US-2 with a firefighting function. This is not only useful for extinguishing frequently occurring forest fires, but also enables firefighting in areas that cannot be reached by fire engines or helicopters in the wake of a large-scale disaster. The US-2 can make a big difference. Another thing that you can do with the US-2 is send an "ambulance amphibian" to collect acute patients on remote islands where one cannot use a helicopter to send a doctor. The possibilities will be even greater for applications that take advantage of its capability to take off and land on either land or water. Preserving the safety and welfare of those living on remote islands will lead to the protection of this country. After all of these plans have been made a reality, we hope to begin exporting the US-2 in the near future as a model case of our contributions to society through engineering prowess."