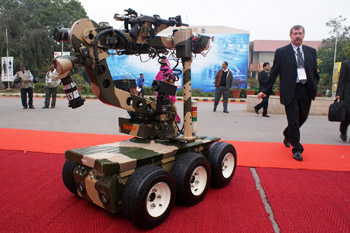 DRDO Daksh ROV
The Indian Navy has announced interest in procuring four remotely-operated vehicles for explosive ordnance displosal purposes. Declaring its interest, the Navy has said it requires these EOD ROVs for "safe disposal/neutralisation of improvised explosive devices found within naval shore/afloat establishments".
The Navy has stipulated that the ROV should be versatile with high manoeuvrability to allow operation in built up areas and field terrain and confined spaces such as in ships, aircraft, buses and trains. In addition it should be able to climb stairs (stair height 8"). Like most modern ROVs deployed in field areas in West Asian theatres, the Navy wants its prospective bomb-disposal robots to be fitted with a manipulator arm with a gripper claw, should be wheel driven with replaceable and removable tracks. It should also have the capacity to fit water disrupter barrels with mounting bracket.
Importantly, it should be capable of picking up explosives weighing at least 6-kg and up to half a metre in length. The Indian Army has already chosen to buy 20 DRDO Daksh IED handling ROVs of a limited series production line. The Indian Navy is likely to consider the Daksh as part of its current effort too.