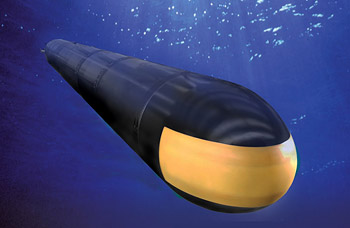 Atlas Elektronik Sea Hake heavyweight torpedo
The Indian Navy is in the market for new heavyweight torpedoes with "state-of-the-art technology, of calibre 534.4mm and length not exceeding 7,800mm, to be fired from existing torpedo tubes of ships". The Navy has been looking to acquire new torpedoes for years, and the current acquisition will be in line with that.
The Navy is already on the verge of signing a deal for 98 Finmeccanica WASS Blackshark heavyweight torpedoes for its Scorpene submarines, a deal that appears now to be delayed by the entire Finmeccanica controversy that's already taken a toll on the AgustaWestland VVIP copter contract progress. The Indian Navy needs the new heavyweight torpedoes for its P28 class of anti-submarine warfare corvettes, the first of which is to be delivered to the Navy by the end of this year. The DRDO's own heavyweight torpedo Varunastra is undergoing trials at this time and is likely to be ready for integration on platforms only by 2016.