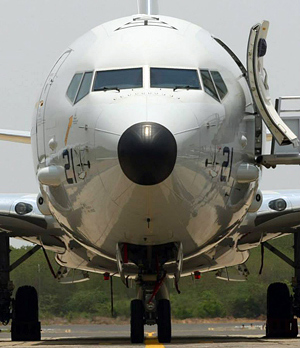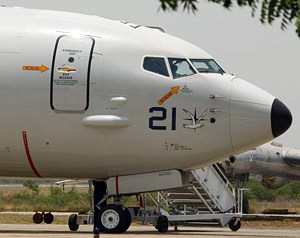 The Indian Navy has proudly welcomed its newest beast: a gleaming Boeing P-8I (unofficially designated Neptune, but yet to receive its official Indian name), the first of eight aircraft that will be the frontline of the Navy's eyes in the sky over water, in all weather day or night for extended missions. The Indian Navy is also considering exercising options for four more aircraft (Boeing itself has determined a market for at least 30 aircraft going by the Navy's requirements).
Based out of a squadron at INS Rajali in Arakkonam, Tamil Nadu, the brand new aircraft, bearing the squadron's Seagull insignia, will be broken into operations next month. It will be joined by the next two aircraft this year, followed by the remaining five spread across 2014-15. That the P-8I was handed over to the Navy ahead of schedule has brought in a much needed feel-good factor, and its only auspicious that the platform was delivered as the Navy just completed celebrations of Naval Aviations's 60th year.
A team from Boeing will be stationed at Arakkonam, as per contractual requirements, to oversee the setting up of infrastructure and begin operationalisation of the platform with the Indian Navy.