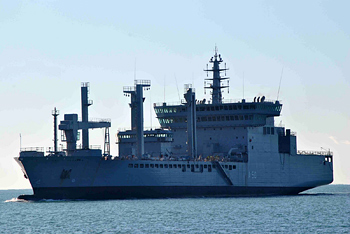 Fleet tanker INS Deepak
In line with expanding responsibilities, a sharp increase in number of vessels over the next few years, and a larger mandate in the Indian Ocean Region, the Indian Navy has announced an effort to acquire five new fleet support ships under the 'global buy'' category. The Navy has stipulated that it requires ships with displacement of 40,000 tonnes in fully loaded condition, 200-metres long and a maximum beam of 25-metres. The Navy also requires its new ships to be capable of speeds "not less than 20 knots of maximum continuous speed, at ambient temperatures upto 40 degree C, in the fully laden condition upto Sea State 3 and while less than six months out of dock".
With a projected complement of 190 sailors and 24 officers, the ship will need to handle one multi-role helicopter. The Indian Navy last commissioned two Fincantieri-built tankers, INS Deepak and INS Shakti, into its fleet, with both vessels praised for their capabilities.