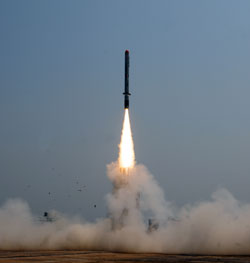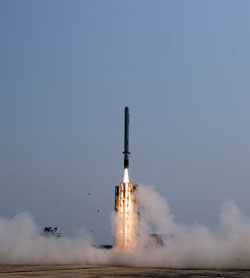 The much anticipated maiden test of India's long-range cruise missile, Nirbhay, ended mostly in disappointment today, with the programme scientists forced to destroy the missile about 20 minutes after launch. While the launch itself from the road mobile launcher, the separation of the booster and deployment of wings, were successful operations, about 20 minutes into the flight, the cruise missile drifted alarmingly from its flight path forcing the test team to take the drastic action. Protocol during such tests necessitates emergency fall-backs in the event of loss of control of the missile.
The Bay of Bengal Test range is a safe one, but the Nirbhay was being tested to its maximum range of 1,000-km and therefore coastal security presented itself as an immediate concern. The test team was therefore unanimous that the missile test must be aborted. Sources indicated that there could have been mechanical issues with control surfaces, or possible certain minor electrical glitches that may have pushed the weapon off course.
A post-test inquiry team will look into all telemetry data to zero in on what went wrong. In an official stagement, DRDO said, "Long range cruise missile Nirbhay was successfully launched today at 1150 hrs from launch complex, Chandipur, Odisha, meeting the basic mission objectives successfully. After travelling approximately mid-way, deviations were observed from its intended course. Further, flight was terminated to ensure coastal safety."