Exclusive
BREAKING NEWS
Nirbhay cruise missile to be tested on March 10?

By SP's Special Correspondent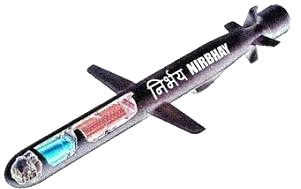 March 05, 2013: The secretive Nirbhay subsonic cruise missile could be tested for the first time on March 10 at the Integrated Test Range off Odisha's coast. Nearly nothing is officially known about the Nirbhay other than it is an intermediate range cruise weapon. DRDL, which will conduct the test, has been circumspect about the system and its capabilities. It hasn't helped that the weapon has been delayed more than two years.
Earlier this year, DRDO Chief V.K. Saraswat highlighted the Nirbhay as one of three systems he wanted to see make a splash in 2013. "Nirbhay has good loitering capability, good control and guidance, high degree of accuracy in terms of impact and very good stealth features," Saraswat said about the system. Sources indicate that a launch window begins on March 10 and will be contingent on weather conditions to facilitate telemetry especially since this is a first ever test. The Nirbhay will be developed for multi-platform use, including from a road-mobile launcher (built by the Tata Group already to deploy the Prahar system), ship and submarine launch, as well as air launch from platforms like the Su-30MKI. While there is no official word, the Nirbhay is understood to be intended as a nuclear delivery system.