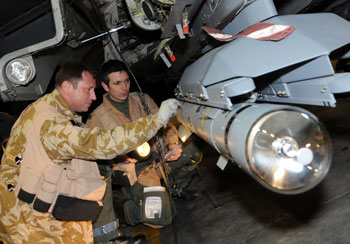 Dual Mode Brimstone being fitted on a Tornado fighter
January 28, 2013:
European missile house MBDA has always had a solid presence at Aero India, and this year it's back with full force once again. The company says,
"At Aero India 2013, MBDA will again demonstrate its unique status as the only company with a product catalogue capable of meeting the guided weapons requirements of all three armed services: air, land and sea. Prominently displayed will be a model of the SR-SAM missile which sees MBDA supporting the DRDO in advancing a solution for the MAITRI short range air defence programme. Partnership will also be a strong theme as MBDA moves to deepen its longstanding relationship with the Indian defence sector."
The company goes on to add, "With the Indian Air Force looking to enhance the operational capabilities of its fleet of Jaguar and Mirage aircraft, combined with its recent selection of the future MMRCA, Aero India offers MBDA the ideal opportunity to showcase its extensive range of air-to-air and air-to-ground guided weapon systems. Today's combat pilot has a more demanding job than ever now that the typical mission has become multi-role. MBDA can provide the pilot with the necessary equipment to not only ensure air supremacy but also to carry out precision strikes against a wide variety of static and fast moving surface targets."