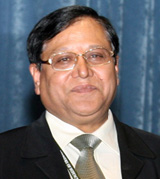 Dr. Vijay Kumar Saraswat
Avinash Chander
January 28, 2013:
In an affirmation for the country's missile programme, three top missile scientists were honoured this year by the Government with Padma awards. DRDO Chief Dr. Vijay Kumar Saraswat, Scientific Adviser to Raksha Mantri and a scientist best known for his association with the successful Akash SAM programme, has been honoured with a Padma Bhushan.
"It is DRDO that has got the award and it is a recognition of DRDOs contribution towards nation building" said Dr. Saraswat said. Dr. Sivathanu Pillai, DS & CCR&D and CEO BrahMos and Avinash Chander, Distinguished Scientiist and Chief Control Research & Development (Missiles & Strategic Systems) are the other two eminent scientists of DRDO who have been honoured with Padma Bhushan and Padma Shri respectively.
The country's missile programme has enjoyed an upswing since 2008, with several programmes coming to fruition and new technologies proving themselves.