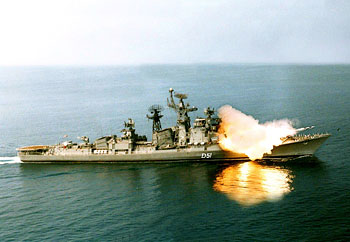 INS Rajput firing anti-ship missile
The Indian Navy is on the lookout for a new medium-range anti-ship missile for its surface platforms and has floated a global request for information. The medium range anti-ship missile for surface platform is intended for fitment onboard Indian Naval ships and would be utilised for engaging identified surface targets by the Indian Navy, says the RFI.
The Navy is looking for a weapon system with a minimum range of 120-km and a minimum altitude of 5-20m above sea level. The weight of the missile, launched from vertical or inclined launchers, needs to be a maximum of 1,000-kg with a warhead of at least 100-kg. The missile needs to have a velocity of at least 0.9 Mach while flying at 20-metres altitude or less, with a low radar cross section of 0.5-1 sqm or less.
The Navy has stipulated that it is interested in a new generation missile with active seeker or better technology. It has also laid down that the missile should be able to target surface platforms with RCS of approx 250 sq m (at approx ranges of 10-20 km), and capable of targeting surface platforms having an across vector of 40 knots. As is standard, the weapon needs to be all weather capable and deployable in upto sea state 6.