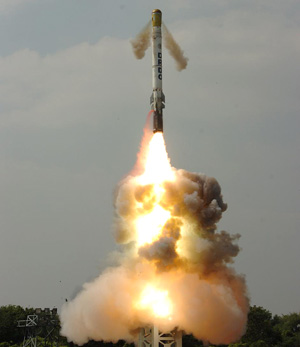 Archive photo of Shourya test
The Defence Research & Development Lab (DRDL) yesterday quietly tested the K-15, the submarine-launched version of the land-based Shourya missile that has been in test. The K-15, designated Project B-05 within the DRDO, is a classified programme that involves a cannisterised hybrid submarine-launched weapon with a range of 750-km for initial integration on the Arihant nuclear-powered ballistic missile submarine that will enter a crucial phase of sea trials shortly.
The DRDO Advanced Naval Systems Programme Office in Hyderabad, which governs the secretive programme, is understood to have conducted at least five tests from underwater pontoon launchers so far, with testing starting in 2007. For submarine operations, the DRDO has developed an R-glass composite cannister, a four-layered thermal protected cannister that will be fitted on the Arihant class of submarines. The K-15 will be nuclear capable.