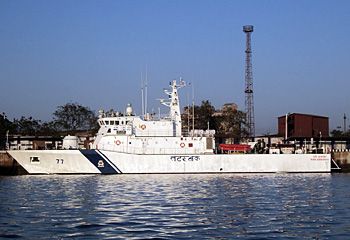 ICGS Rani Abakka, IPV
December 01, 2012:
Indian Coastguard's under-build fleet of 20 fast patrol vessels being constructed at the Cochin Shipyard Ltd (CSL) will have Northrop Grumman advanced shipboard navigation systems. According to NGC, "Under the contract awarded through the company's Indian reseller Marine Electricals Ltd, Northrop Grumman's Sperry Marine business unit will provide a navigation package including VisionMaster Total Watch multifunction displays, electronic chart display and information system (ECDIS), autopilot, magnetic compass and the new NAVIGAT 3000 fibre-optic gyrocompass."
As with most such contracts, the deal also includes spares, factory testing and engineering support services. The first shipset delivery is expected in late 2012. Deliveries will continue into 2015. "These integrated bridge system components will provide the Indian Coast Guard the most advanced shipboard navigation systems available today," said Alan Dix, Managing Director of Northrop Grumman Sperry Marine. "We look forward to delivering products that will help secure India's coastline for years to come." Sperry Marine's NAVIGAT 3000 fibre optic gyrocompass provides all motion data required for the ship's steering for faster operation. It minimises size, weight, noise and power consumption while maximising reliability, dynamic angular rate and redundancy as it delivers the full set of navigation data.