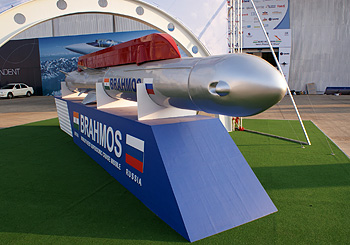 October 25, 2012: A BrahMos has been test-fired from INS Teg, the Indian Navy's new stealth frigate, the first of the follow-on Talwar-class warships built at the Yantar shipyard in Russia. The test from off the Goa coast was said to be entirely successful—the INS Teg has fired a BrahMos once before during pre-induction trials in Russia. Her follow-on ships, the Tarkash and Trikand, will also be armed with the BrahMos in a vertical configuration.
In a related development, India's Cabinet Committee on Security has cleared a procurement of air-launched BrahMos missiles worth Rs 6,000-crore for the IAF. The air-launched variant of the BrahMos has undergone carriage trials, but hasn't been test-fired yet. Sources say the modified missile could see a debut firing in the coming weeks, perhaps in December. The air-launched BrahMos sports a reduced booster and fins for stability during separation at air-launch.
Each Su-30MKI will be able to carry a single BrahMos on a belly hardpoint. The IAF hopes to modify at least 40 Su-30MKI air dominance fighters to be capable of deploying BrahMos. India and Russia are currently also working on a hypersonic version of the BrahMos, designated BrahMos 2.