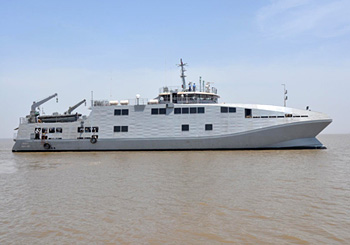 September 24, 2012: Heralding a new, albeit small, chapter in Indian shipbuilding, the Indian Navy has inducted its first catamaran hydrographic survey vessel, INS Makar, the first of its kind to be inducted. The ship has been built by Alcock Ashdown Gujarat Ltd. The ship is propelled by four Cummins-built engines and two bow thrusters. With two on-board survey motor boats, the entire propulsion, navigational and power management systems on the INS Makar have been integrated into a single state-of-the-art system called Integrated Platform Management System, now standard on all indigenously built ships for the Navy and Coast Guard.
The equipment on INS Makar includes autonomous underwater vehicles (AUVs) and remotely operated vehicles (ROVs) for specific investigations, an advanced Electronic Positioning System, Multibeam Swath Sounding Systems and Sub Bottom Profiler. The vessel also has a full range of latest oceanographic and land survey equipment. INS Makar accomodates six officers and 44 sailors.
According to the Navy, "The ship has enhanced Indian Navy's already existing world class sea/ocean survey capability. INS Makar also marks a new chapter in the annals of Hydrography in our country. The primary role of the ship is to undertake hydrographic surveys, required for production of nautical charts and publications aimed at improving navigational safety at sea. She is equipped with an array of modern surveying equipment and also undertake limited oceanographic surveys towards providing marine environmental data."