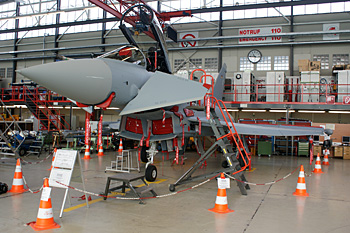 Eurofighter under construction at Manching, Germany
M777 ultra-light artillery gun
September 15, 2012:
It will be one the largest ever acts of consolidation in the arms and aerospace industry ever, certainly the biggest in Europe. The under-discussion merger of defence and aerospace giants EADS and BAE Systems, in discussions at the highest levels since earlier this year, has a distinct Indian connection. It is widely believed that Eurofighter's runner-up loss in the Indian medium multi-role combat aircraft (MMRCA) competition presented not just phenomenal disappointment for Eurofighter—a programme administered by EADS and BAE Systems together—but also a larger inflection point. Focusing much energy on the twin American campaigns had failed to push the Typhoon across the finish line, trumped as it was by its own European cousin, the French Rafale—an airplane it is similar to in many respects. While actual trigger may have been the MMRCA loss, the coming together of the two massive firms has also been driven by a perceived need to mount a single corporate entity to battle US firm Boeing. Synergies would also allow both firms to rationalise operations in the face of a global dip in defence expenditure. India, as it turns out, is an exception, not really a rule in that sense.
One of the theories that insiders in both EADS and BAE had for the MMRCA loss was that it wasn't led by the British team, which had decades of experience doing aerospace business with India. The much more inexperienced German component of the consortium, some in both companies say, may not have known precisely how to handle the programme. This was only one example of disparate corporate entities perhaps not taking the best decision available—something that may be streamlined with a merger. The complexity of both companies, though, would still need a phenomenal degree of synergy, considering that the EADS and BAE have overlapping interests and business units. For instance, both companies manufacture trainer aircraft, UAVs and other advanced systems for the civil sphere. The merged entity would, however, be perhaps the most integrated weapons company in the world—making everything from warships, to aircraft, UAVs, helicopters and spacecraft, to land systems, electronics, military vehicles, missiles and artillery. India has procurement or joint development interests in virtually every one of those areas.
Both EADS and BAE Systems have had a fairly mixed bag in the country, even if analysts find it tempting to paint most things now with the MMRCA brush. BAE Systems has a successful Hawk programme currently on with HAL—it has just been handed an RFP for 20 more Hawks for the IAF's revamped aerobatics team—and is in line to receive close to a billion dollar deal for 145 M777 ultra-light artillery guns. Several other competitions, both in defence and civil, shore up a healthy market outlook for a company that has, across several avatars, been an old hand in dealing with India. EADS, on the other hand, has faced a string of disappointments in India, certainly as far as defence is concerned. While the Typhoon defeat stung badly, it was also made to endure two big-ticket contract aborts at the last moment—the first attempt to procure 197 light reconnaissance helicopters and the first attempt to procure six new mid-air refuelling tankers. The company waits eagerly for the outcome of the sophomore attempt on both contracts.
A corporate coming together of the two companies would make the resulting entity a formidable one, even if one is to consider how wrong mergers in the arms industry can actually go. In India, an EADS-BAE entity would be in a position to be a pan-industry vendor. And considering that India happens to be one of the few countries that doesn't appear to be in a position to slash its security spending, New Delhi could take primacy of place in the attention that the new company pays to international customers.