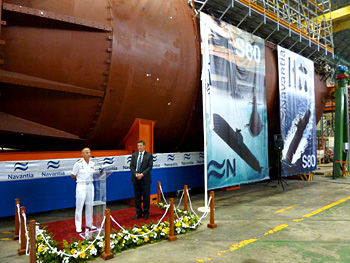 August 27, 2012: Already constrained with dwindling submarine numbers and availability—and facing systemic delays in the intitiation of the Rs 50,000 crore Project 75 'India' for six brand new diesel-electric attack submarines fitted with air-independent propulsion, to be built mostly in country, the MoD is finally ready to float the elusive tender, nearly two years after the RFI was issued in September 2010.
The platforms likely to compete for the line, which will involve two submarines built at OEM shipyards, and four in country, include the Rubin Design Bureau Amur 1650, German HDW Class 214, Spanish Navantia S-80, French DCNS Scorpene and the Swedish Kockums A26. With the existing Scorpene line at Mazagon Dock Ltd running slightly behind schedule, the Navy is under pressure to get the RFP out as soon as possible.
While outgoing Navy Chief Admiral Nirmal Verma played down the delays in floating the tender, it is understood that several modalities over configuration took vast amounts of time, creating delays between the RFI and RFP process.