Photo Credit : Major V.K. Singh /DPR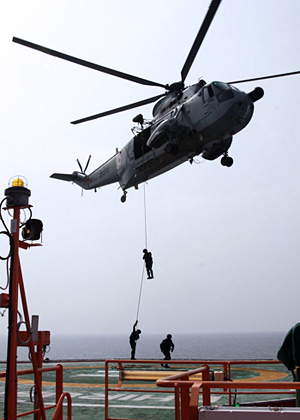 August 17, 2012: Long delayed already, the Indian Navy is likely to begin the process to choose a package to upgrade its fleet of ageing Westland Sea King Mk.42B utility/ASW helicopters shortly. The upgrade involves sprucing up the Sea Kings with new avionics, electronic warfare suites, communication kits and an all-new weapons suite, including anti-ship and anti-submarine munitions.
The Navy is currently weighing upgrade packages offered by the OEM AgustaWestland (backed by a consortium of European companies for the electronic suites), and Israeli packages that includes IAI-Lahav and Elbit. The upgrade of roughly 20 Sea Kings comes at a time when the Navy is near making a decision on a contract that will begin the process of augmenting and progressively replacing the old Sea Kings. The MRH competition for 16 multi-role helicopters, in which Sikorsky's S-70B Seahawk is understood to have the lead over NHIndustries' NH90.
The Navy will also soon begin the process on the follow-on N-MRH competition for at least 75 helicopters—a total of 91 choppers to replace India's dwindling number of Sea Kings. The N-MRH programme will involve a competition between the Lockheed-Martin MH-60R, NH90 and perhaps even the Eurocopter EC725 Super Cougar.