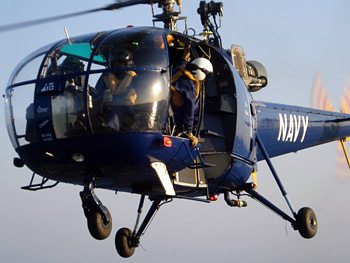 August 08, 2012: After inviting information in 2010, the Indian Navy has floated a tender for 56 naval utility helicopters (NUH) from global vendors. The Navy is looking to replace its Chetak and multi-role anti-submarine torpedo carrying helicopters with suitable new-build light utility helicopters. "The helicopter should be a wheeled twin engine helicopter of modern airframe design with modern, proven, reliable and fuel efficient engines and fully integrated advanced avionics," the Navy has stipulated in its RFP.
The Navy wants interested contenders to field helicopters that are IFR capable with dual controls but capable of single pilot operations (the default operational crew being two pilots and an aircrew man diver). The day and night missions to be undertaken by the new fleet would include (a) search and rescue, (b) casualty evacuation (CASEVAC), (c) logistics and communication duties including under slung cargo, (d) limited observation and surveillance, (e) limited ELINT gathering, (f) ASW attack with light torpedo/depth charge, (g) provide dynamic response during aid to civil authorities, (h) anti-terrorism/anti-piracy with small arms.
The Navy stipulates that the helicopter must be able to operate from small decks and larger decks up to aircraft carrier in adverse weather by day and night. Significantly, the Navy is looking to replace its single-engine Chetaks with twin-engine NUHs.