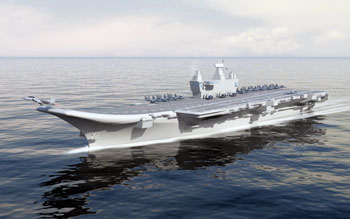 January 02, 2012: India's maiden aircraft carrier project under way at the Cochin Shipyard sails into its crucial second phase, with the hull of the 40,000 ton warship floated out from its drydock last week. The hull on the quayside will now be integrated with other systems and components, including plumbing - in itself a major exercise for the largest warship India has ever built by itself - electricals, machinery units, living quarters, weapon mounts etc.
Sources said the building dock was required for the construction of a commercial hull, and that the carrier hull would be brought back in for the remaining construction right after. The indigenous aircraft carrier, to India's second INS Vikrant, has been hit by delays, though the navy has endorsed most of these considering they have had to do with ab initio design and manufacturing processes. The aim is to have the ship inducted in the first half of this decade and no later. For a country that has never built an aircraft carrier before, timelines haven't been too great a cause for worry. After steel cutting in 2005 and keel laying in 2009, a delivery date of end 2014 isn't dire, according to Indian naval designers.
The biggest hold-ups so far, apart from the design itself, was the availability of warship-grade steel (since made available indigenously - a major breakthrough) and certain specialised components. Recent delays have been attributed to the integration of marine gears, though it was recently reported that Gujarat-based Elecon Engineering Ltd had been contracted to supply the units using German collaboration shortly.