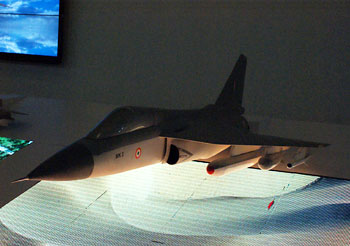 With the Indian Air Force all but officially writing off the LCA Tejas Mk.1 as a fast jet trainer with limited offensive capabilities, all eyes are now on the LCA Mk.2 that will sport a more powerful engine and an upgraded flight envelope. The Aeronautical Development Agency (ADA) has been told in no uncertain terms that the future of squadron numbers depends largely on how the Mk.2 avoids the pitfalls of its predecessor. The question, therefore, is: will the LCA Mk.2 fulfil all IAF requirements and emerge, on time and cost, as the frontline interceptor the IAF is hoping it will be to shore up squadron numbers and operate across the country.
The action taken report on the Mk.2 so far doesn't inspire great confidence. The Aeronautical Development Agency (ADA) has so far completed a preliminary design review of the GE414-INS6 turbofan engine, but moved no further. Systems designs of fuel system, hydraulic system, electrical system, environment control systems were completed in the 2012-13 period and Limited System Design reviews had been carried out at the time, but not moved forward in a substantive manner. Fabrication of 1:15 scales force & moments models and 1:7.645 scale air intake models were completed, while wind tunnel tests at Calspan, U.S. ADA has also managed to complete the preliminary design review of the Integrated Flight Control System and critical design review of the GTSU-127 Jet Fuel Starter. A redesign of the vertical stabiliser (fin) of the LCA Mk.2 has been carried out to based on changes required to accommodate conformal antennas that will form part of the platform's improved electronic warfare suite. Studies of an alternate gun for LCA MK.2 were also carried out, with detailed studies still on to zero in on a final weapon, likely to be the Gryazev-Shipunov GSh-23. After eight options for in-flight retractable refuelling probes proposed by Cobham, U.K., weren't found feasible, a ninth option has been chosen, with detailed studies in progress to finalise the configuration.
Coming to the LCA Navy Mk.2, things are slightly more complicated. The second and third prototypes NP3 & NP4 will be Mk.2 variants of the LCA Navy, while NP5, a second trainer is under build as a risk mitigation exercise. As is well known, the main contributors to improvement in LCA Navy Mk.2 are higher thrust engine (the F414), increased wing span, lighter landing gear and structure, and improved systems layout towards better safety and maintainability. A design consultancy with Airbus Defence & Space (Earlier EADS/Cassidian) has been initialised following its assistance in the LCA Navy Mk.1. In the inerm, computational fluid dynamics (CFD) studies on several configurations of LCA Navy Mk.2 have been carried out. Performance estimation with new GE-414-INS6 engine has also been carried out. The next phase will involve wind tunnel testing. Design iterations of LCA Navy Mk.2 surface geometry has also been undertaken based on suggestions made by design consultant Airbus D&S and have been evaluated with CFD studies. "Meanwhile, based on the design suggestions, design teams involving Aerodynamics, Structures and various groups are working on the concept design of LCA Navy Mk2," says the ADA.
An improved landing gear design, supplied by Airbus Defence & Space is currently under review for implementation on the Mk.2. "This would reduce landing gear mass considerably," admits ADA. All issues related to landing gear observed during initial block of flight testing on the NP1 have been rectified. Part fabrication of the arrester hook assembly and the actuator-cum-damper assembly have been progress at ADA. The arrester hook assembly has been integrated on the NP2. A modified arrester hook system conformal to the fuselage is being studied for implementation on LCA Navy Mk2.
The LCA Mk.2, both air force and navy variants, are intended for far improved performance across the flight envelope, including higher turn rates, acceleration and climb, a much smaller logistics and maintenance footprint, longer endurance with a larger fuel carrying capacity, a vastly improved electronic warfare suite and a full weapons capability, including beyond visual range air to air missiles, stand-off strike weapons and anti-ship missiles. The G limits on the Mk.2 will be up from +8/-3.5 to +9/-3.5. The platform will also sport an on-board oxygen generation system and will be 45% composites by weight.