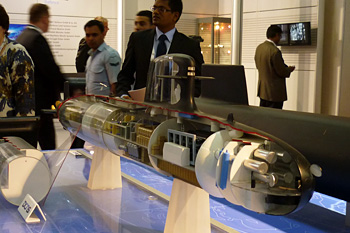 May 15, 2012: With the Indian Navy likely to issue request for proposals (RFPs) for the long awaited follow-on Project 75 India submarine build effort, pressure is building for a quick decision on two counts. On the one hand, the Indian Navy's submarine strength is on a downslide and operational availability continues to be a concern. On the other, there is a conscious effort to ensure that the redundancy encountered following the HDW episode in the 1990s is not repeated again.
In fact, providing testimony to the Parliamentary Standing Committee on Defence recently, Mazagon Dock Ltd Chairman Vice Admiral (Retd) H.S. Malhi said, "Our Hull shops, particularly for the submarine construction, we will start oiling after we finish these six (Scorpenes). So, it will help us if we get the repeat order. So, our request as CMD would be that if that is ordered early on us, we will be able to retain the expertise because it takes a long time to build up expertise on submarine construction. We have already suffered in the past when there was a gap between the SSK and Scorpene. So, we would not like that to repeat. That is a request. That is all from my side."
The first of the six Scorpene submarines being constructed at MDL is to be delivered by June 2015 and the final one by September 2018. MDL is concurrently building all six submarines. According to figures supplied to Parliament, the present status of work completed on the six submarines ranges from 2.45 per cent to 54.84 per cent.