Sailors aboard the USS Carl Vinson (CVN 70)
during a passing exercise with INS Ranvijay (D55)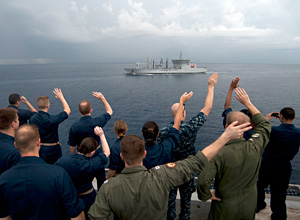 Sailors wave as the Nimitz-class aircraft carrier
USS Carl Vinson (CVN 70) passes INS Shakti (A57)
April 21, 2012:
The Indian and U.S. navies have completed another round of the Malabar series of joint exercises, off India's Eastern seaboard. The U.S. Navy fielded ships from the Carrier Task Force (CTF) 70 of the US 7 Fleet based at Yokosuka in Japan, which has at its center Nimitz-class aircraft carrier
USS Carl Vision,
accompanied by guided missile cruiser
USS Bunker Hill,
guided missile destroyer
USS Halsey
and logistics vessel
UNNS Bridge.
Los Angeles-class
nuclear attack submarine
USS Louisville,
Lockheed-Martin P3C Orion and Northrop-Grumman E-2 Hawkeye AEW aircraft were also part of the exercise.
The Indian Navy was represented by brand new indigenously-built stealth frigate INS Satpura, Rajput-class guided missile destroyers INS Ranvir and INS Ranvijay, guided missile corvette INS Kulish and fleet replenishment tanker INS Shakti. The two sides deepened their level of engagement, including the exchange of aircraft and personnel, VBSS routines and a passage exercise.
USS Carl Vinson (CVN 70), USS Bunker Hill
(CG 52), and USS Halsey (DDG 97) transit in
formation, with Indian Navy ships
Submarine USS Louisville with Indian,
US Navy units in formation
Submarine USS Louisville with Indian and
US Navy units in formation
INS Satpura (F48), INS Ranvir (D54), INS Ranvijay
(D55), INS Kulish (P63) with USS Carl Vinson (CVN 70), USS Bunker Hill (CG 52) & USS Halsey (DDG 97)
INS Kulish (P63), left, passes the Arleigh
Burke-class guided-missile destroyer USS
Halsey (DDG 97)
Passage exercise
USS Carl Vinson (CVN 70), USS Bunker Hill (CG 52)
and USS Halsey (DDG 97)
INS Satpura (F48), INS Ranvir (D54),
INS Ranvijay (D55), INS Kulish (P63) and
INS Shakti (A57) with USS Carl Vinson