A poster welcoming INS Chakra as the newest member of
the Eastern Naval Command at Visakhapatnam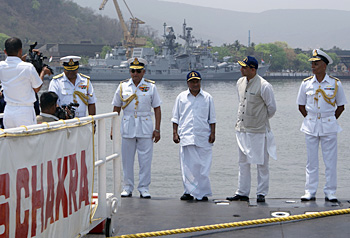 Defence Minsiter A.K. Antony, flanked by CNS Admiral Nirmal
Verma and MoS Defence M.M. Pallam Raju on the upper
deck of INS Chakra during its induction ceremony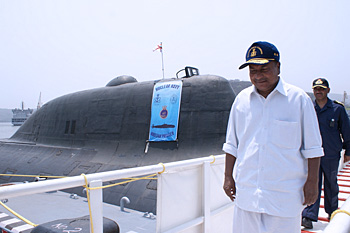 Defence Minister A.K. Antony disembarking INS Chakra
after the ceremonials
April 05, 2012:
The 8,140-tonne Russian
Akula-II
class nuclear powered attack submarine (SSN)
INS Chakra
joined the Indian Navy today, pushing the service back into an exclusive club it got a brief membership to almost a quarter century ago: countries that operate nuclear powered submarines. The
Chakra
will operate under the Eastern Naval Command and, unlike its predecessor namesake, a
Charlie-I
SSGN that was leased mostly as a training lab and testbed, the new submarine will very much be part of the navy's warfighting arsenal. Reputed to be among the stealthiest, quietest submarines ever built, the Chakra comes armed with anti-ship/submarine torpedoes, anti-ship and land attack missiles and surface to air missiles. The 110-metre long vessel, powered by a pressurised water reactor that churns out 190MW, can stay submerged for over 100 days, theoretically limited only by the endurance of its 100-strong crew and the inventory levels of its rations and consumables.
Among assertions from the strategic community that while the induction of the SSN was good news, India actually needed at least five more such boats to truly be able to project power, Defence Minister A.K. Antony today confirmed that the country was considering a proposal to lease a second Akula-II class SSN from Russia, but did not indicate the status of the proposal. Asked about the default comparisons with China's healthier nuclear submarine fleet, the Defence Minister said, "The INS Chakra is not aimed at any country. It is for our national security."
India's indigenous SSBN programme is to make progress this year, with the first vessel Arihant to enter a crucial phase of sea trials and a planned induction into service two years from now. Antony called upon the Arihant programme to ensure that he was invited back to Visakhapatnam soon to witness the ballistic missile submarine enter service.
| | | |
| --- | --- | --- |
| | | |
| The aft portion of INS Chakra at its induction ceremony, showing the towed array sonar pod. Landing ship INS Jalashwa can be seen in the background | | INS Chakra at Jetty X of the Shipbuilding Centre in Visakhapatnam, moments before it was formally inducted into Indian Navy service |