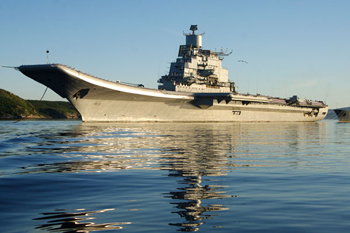 INS Vikramaditya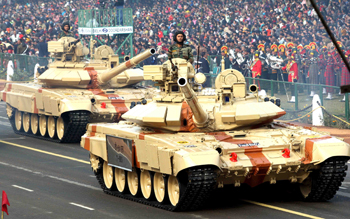 T-90 battle tank
February 06, 2014:
As Defexpo 2014 opens, the atmosphere in Delhi's early spring air is unmissable. In a country that has had a difficult relationship with military procurement, these are particularly testing times. It's as if the entire modernisation system, and all stakeholders concerned, have been committed to an exercise to test several parameters: patience, endurance, agility and, yes, influence. The euphemism most commonly encountered in the Indian defence contracting space over the last 12 months has been 'cautious optimism'. A raft of important contracts lie virtually ready to be signed. But a combination of disparate circumstances make these some of the most incredibly uncertain times for pretty much anything. Certainly for big-ticket defence expenditure.
But the arrival of Defexpo itself ought to be a breath of fresh air. An indication that the will to modernise is alive and well, and that international interest in the Indian defence market is as healthy as ever. This year's event has big shoes to fill: Two years ago, Defexpo 2012 recorded unprecedented growth in foreign as well as domestic participation over all of its previous editions. An impressive 232 foreign companies from 32 countries participated in the 2012 show along with 15 country pavilions. The event was attended by the largest number of official delegations with 63 delegations from 58 countries gracing the occasion. A number of international seminars and conferences were also conducted on the sidelines of the show. This year, things remain on even keel, responding to the unmissable, all-pervasive atmosphere.
Consider the following: the strongest tang in the air is political. With national elections just weeks away, the country's psychology, machinery and resources are geared towards the turbulence of transition. The air of political change is everywhere. The city you're reading this in has a government just over a month old, led by a party that's more than a year old. The ruling party at the Centre heads into elections fighting a tough 10-year incumbency factor and an energetic opposition, spirited forward by the BJP's prime ministerial nominee Narendra Modi. Energies big and small for political parties across the board are on electoral success. Unprecedented scrutiny of decisions big and small, especially those that concern public expenditure means that a notoriously laboured decision-making loop has become even more strained. With the model code of election conduct within sniffing distance, the modernisation limbo doesn't need to be explained.
Defexpo this year also comes in the shadow of one of the biggest controversies to hit the defence contracting space: the VVIP helicopter episode — a year long to-and-fro that ended with the Indian the Ministry of Defence's (MoD) decision to cancel the contract, making it the first contract in the hiStory of Indian defence deals, to be scrapped midstream. The fallout of the controversy and the decision taken by the government to pull the plug on the deal is having far-reaching effects on the psyche of defence contractors the world over. Notwithstanding enduring business interests in country, the episode has forced virtually all stakeholders to pause and reassess the way business is conducted, the way they regard the Indian system, and the manner in which contracting is carried out. It would be an understatement to say it has infused a measure of anxiety. The Ministry of Defence on its part has been firm: integrity and fair play cannot be sacrificed at the altar of speedy and efficient modernisation. That said, the VVIP helicopter contract decision is still sinking into a market that already regards the Indian system, in some measure, as arbitrary, whimsical and unaccountable.
Already, international vendors are gathering intelligence on what India's next political dispensation will be like. These circumstances actually make things even more tantalising. It is sometimes difficult to comprehend, even for those who've done business in India for decades, that the political wagon is rarely unhitched from that of ground necessity. That's probably true of every country that buys more weapons than it makes itself.
If you were at the show two years ago, you couldn't have missed the buzz. The Indian economy was growing steadily, resisting the worst of a global slowdown and an ever intensifying spectrum of threats. India was regarded then as a market of limitless possibilities, a view that has been dulled somewhat in the last 24 months, but one that remains by and large on the level. Two years ago, India became the world's largest importer of weapons, a status that saw a country that traditionally imported hardware, shift gears into a realm of nimble partnerships, cross-investment and synergies with global technology houses. The India of yore, a buyer rather than a partner, is now a brave new nation with compelling indigenous capabilities and the will to perform on a competitive global stage. If the Defexpo show in 2012 came at profound time for Indian security, the edition that kicks off today brings with it an air of contemplation, introspection, course-correction and yes, that omnipresent cautious optimism.
Through the cloud of uncertainty, some facts remain undisputed. The eighth international exhibition on Land, Naval and Internal Homeland Security Systems, is the largest ever defence exposition in Asia, facilitating companies from across the world to once again come together in what is, without a doubt, still every defence firm's priority dream market. It is a chance, once again, to showcase India's emergence as an attractive destination for investment in defence and provides the best possible platform for alliances and joint ventures in the industry.
It's true. Few companies say no to Defexpo. But that was more true in 2012 than it is at this year's show. In 2012, an impressive 567 companies from 32 countries showcased weapons, munitions, specialty vehicles and advanced maritime systems for the Army, Navy and paramilitary. The major exhibiting countries participating in this year's edition of the fair include Russia, the United States, France, United Kingdom, Israel, Belgium, Germany, Italy, Japan, Republic of Korea, though most of these have shrunk their presence in terms of floor space and number of companies fielding stalls. This, at any event, is unsurprising and was mostly expected by the MoD, which in coordination with the Federation of Indian Chambers of Commerce and Industry (FICCI) has been under considerable pressure to deliver a successful show. There is no reason to believe Defexpo 2014 won't be one.
But is there business at hand? As Defexpo opens this year, there are several land and maritime deals that remain suspended in uncertainty. While there remains every hope that they will move forward, the companies concerned regard shows like Defexpo as an opportunity to further the conversation and reaffirm commitment to the Indian market. In many ways, that will be the touchstone of what this year's show is about. Sticking it out, and staying visible in what nobody disputes to be the world's toughest contracting space.
This year, the Defexpo 2014 seminar is themed 'Global Partnerships towards Joint Development and Indigenisation', both significant and timely. Like the show two years ago, Defexpo 2014 could turn out to be a proving ground for India's burgeoning private sector that has received its calling to pitch in for national security requirements across the spectrum for the armed forces and paramilitary forces. With evolving policies that hope to provide a competitive playing field for healthy competition, India's robust private sector is looking actively for investments and technology partnerships with proven firms. India's expansive state-owned military industrial complex, which holds most keys to self-reliance, have now been imbued with the freedom to improvise, invite foreign technology and make full use of the capabilities on offer to India, a responsible and peaceful democracy. The public-private partnership model, while still in evolution, could reasonably be joined by dynamic publicprivate-foreign business models, harnessing the indispensable strengths of each. Each passing Defexpo has proven, when it comes down to the empirical post-show bean count, that businesses big and small profit from being here. And this profit goes well beyond the deliverables calculation that most media and trade magazines feel tempted to boil it down to.
With great attention has been paid to India's aerospace contracting (Defexpo, inevitably, has its own aerospace component, and a significant one at that), almost wholly represented in recent years by the monumental multibillion medium multi-role combat aircraft (MMRCA) competition, India's land and maritime systems needs are no less dramatic. The Indian Army, in the midst of a deep doctrinal transformation that could change the very core of how it fights its wars, is a tough customer looking to overhaul many of its legacy systems — from specialty vehicles to infantry weapons, and from battlefield electronics to unmanned systems. The Army's future infantry soldier as a system (F-INSAS) alone provides an evolving opportunity for firms worldwide to partner with Indian industry to kit up one of the world's largest and most potent land forces. The procurement of artillery remains a pathological sticking point, though, that hopefully will see the light of day this year. A contract for ultra-light artillery guns from the US has ground to a phase of uncertainty, though there are indications now that there's reason to feel optimistic.
The Indian Navy, a spearhead in the difficult work of indigenisation, will shortly kickstart its next big procurement effort — the Project 75 India submarine project, that looks to build six conventional attack submarines within the country in tandem with the six DCNS Scorpenes currently being built in Mumbai. With Indian state-owned shipyards spilling over with warship orders, and the Indian private sector pitching in efficiently, there are substantial opportunities for new surface combatants, support and specialty vessels. The Navy, which inspires several other regional maritime forces and the way they contract in turn, is also looking to overhaul its backbone communications infrastructure, network-centric systems, shore-based and shipborne sensors and weapons.
Several mechanisms that facilitate contracting remain in a state of flux. India's offsets regime has matured considerably, with ambitious new guidelines that will see billions of dollars worth of contracting money diverted back into the country in the form of direct (defence) offsets and indirect (civil aerospace, internal security, and training) offsets. The offsets policy is evolving quickly. Apart from high profile business activity, Defexpo 2014 provides a timely and valuable platform for Indian and foreign firms to hammer out partnerships that help fulfil offset requirements. Several companies have already begun the process. Several more will engage. But as noted earlier, 2014 is a whole new kettle of fish for the circumstances it throws up.
The armed forces, including the Indian Coast Guard (ICG) aren't the only customers at Defexpo 2014. Police forces and the paramilitary are significantly upgrading their capabilities, in tune with operational requirements. It is important to note the enormous opportunities for synergies that exist in the internal security space as well. From tactical unmanned systems and deeppenetration sensors, to side-shot weapons and traditional small arms, the Indian police forces and paramilitary continue to require multiple modern capabilities to take on newer more challenging tasks. With profiles changing and the commitment of internal security forces towards internal insurgencies in Central India, requirements specific to the new profile have emerged. Special protective gear, humanitarian relief equipment and survival aids will be required in substantial quantities across the armed forces and paramilitary. Those requirements will be enunciated over the four days of Defexpo 2014.
By all accounts, the air of uncertainty and anxiety will be shortlived. A robust nation with the requirements that India has can only move forward to meet its commitments. But together, it will take unusual resilience by all concerned, not least international contractors, who've shown once again that they are committed to doing business in a country they have grown to know and love. Over the next few days, there is every hope that international and domestic firms will talk, exchange ideas and come together constructively, moving beyond mere memoranda of understanding, and commit to doing real business not just for India, but armed forces across the world. In a world where India's position as a rising power, even a military one, has been unanimously recognised, the event you're at provides an excellent platform for interface in the furtherance of not just business, but relationships.
Here's hoping 2014 is a safe and successful year for you all!