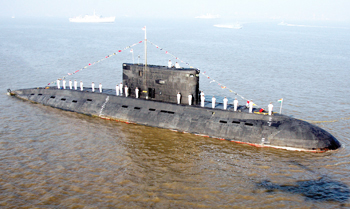 Kilo Class Submarine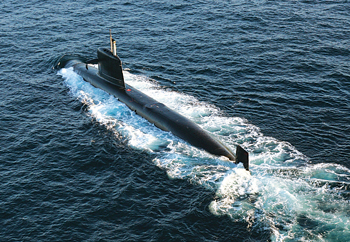 Scorpene Submarine
February 06, 2014:
Nearly four years after the Indian Navy first scouted information to support its acquisition of six new-generation diesel-electric attack submarines as part of Project 75 India, a request for proposal (RFP) remains tantalisingly elusive. For over two years now, indications have been that the competition could begin at any time. But a combination of factors, not least a startling lack of all-round decisiveness has intensified the problem for one of India's most sensitive capability areas. 2013 has been a deeply mixed year for the Indian submarine arm, necessitating tough calls that will hopefully finally see fruit this year. The Indian Navy's top submariners will be at Defexpo this year to once again to exchange information and apprise themselves of the best in the market before the RFP goes at the latter half of this year.
If it has ever been imperative for the Indian Government to fast-track modernisation of the Indian Navy's submarine arm, it is especially so now. A combination of factors have made the last 12 months a startling indicator of how quickly decisions need to be made. Last week, the Indian Navy reportedly finalised a salvaging contract for the INS Sindhurakshak. She lies destroyed with 18 souls at the Mumbai dockyard after a horrific August 2013 accidental detonation in the forward weapons compartment, in what was India's most horrifying peacetime naval accident. The Indian Navy is now down to 13 submarines, with an availability level of no more than six at any given time. But 2013 has also had its highs. Just days before the tragedy aboard INS Sindhurakshak, India's indigenous nuclear submarine Arihant stepped out of the shadows with its pressure water reactor going critical. The ballistic missile platform will embark on sea trials just weeks from now, before entering a phase of weapons testing and then deployment on deterrent patrol.
The truth is, there is a problem. Fifteen years after India's apex Cabinet Committee on Security signed on an ambitious but crucial 30-year submarine building plan to give the Indian Navy as many as 24 conventional attack submarines, it hasn't managed to build and commission a single one. The DCNS Scorpene production line at India's Mazagon Dock Ltd (MDL) in Mumbai has slipped, but is finally on track, with a first delivery slated for September 2016. The Project 75 India, as mentioned above, is yet to be put out to sea. The fact that these two lines haven't delivered a single submarine yet means the additional 12 submarines that the 30-year plan envisaged as fully indigenous designs and builds aren't even visible in the overall scheme of things.
That said, the Indian submarine arm is perhaps its most underequipped, making business propositions in the country something no shipbuilder will ignore. From submarine platforms themselves, to combat systems, to propulsion, to weapons and countermeasures. Lessons from the Scorpene build programme will also be valuable for a far greater private sector involvement in the upcoming build line. At this year's show, several Indian private companies will showcase submarine system building capabilities. It goes all the way from major fabrications to the construction of advanced systems and everything in between. The idea, ultimately, is to synergise these various capabilites to build 12 fully indigenous submarines for India after the Project 75I. The Defence Research and Development Organisation (DRDO), currently steeped in completing the Arihant programme and delivering it to the Indian Navy, will also work on conventional and nuclear attack platforms.
"Defexpo is a very important platform for DCNS to showcase the services we can provide to our customers through genuine transfer of technology," says Bernard Buisson, Managing Director of DCNS India. "DCNS India set up a dedicated indigenisation programme as part of the transfer of technology (ToT) agreement with Indian naval shipbuilder Mazagon Dock Limited." At Defexpo, the Scorpene is presented with its SUBTICS combat system and its optional MESMA AIP section. According to DCNS, SUBTICS combines long-range capabilities in all navigation conditions with powerful weapons (torpedoes, anti-ship missiles, countermeasures, land-attack capability). As a fully-integrated system, all functions are operated from Multifunction Common Consoles and its open architecture and modularity guarantee that the system can be adapted to every type of submarines and configured according to operational requirements. The Indian Navy will be looking closely at these new capabilities on display. DCNS has also offered to build and deliver two Scorpene submarines rapidly for the Navy in France and deliver them as the Indian line begins pushing out its first submarine.
Competitors Navantia of Spain, Thyssenkrupp Marine Systems - HDW from Germany, the Rubin Design Bureau from France and others will also be present at this year's show. Delays in the competition getting off the ground haven't blunted interest, but heightened anxiety over how long more before the race actually begins. All four companies were present at last year's show, at which point they were promised that an RFP was imminent. This time around, skepticism will need to be suppressed as the government sends out a signal that an RFP is truly imminent this year.
Russia's Central Design Bureau for Marine Engineering Rubin has mounted an aggressive campaign for the Amur 1650, which it regards as a priority project for the Russian military industrial complex considering that India has shifted away from Soviet conventional submarines following the Kilo class. According to the company, which will display models of the Amur class at Defexpo this year, "Amur 1650 is the most effective modern non-nuclear submarine available today. Compared to similar boats in its class, the Amur distinguishes itself by possessing the capability to strike missile salvo attacks from all torpedo tubes against sea and fixed land targets, target detection range increased with respect to other existing sonar means due to availability of unique sonar system and a far lower noise level."
Germany hasn't forgotten its loss to France in India's Project 75, and will be looking to make up for that with the 75I programme. It has pitched the Class 214 submarine. According to the company, "It is well equipped to undertake a wide scope of missions ranging from operations in littoral waters to ocean-going patrols. The modular weapon and sensor mix, in combination with the submarine's air-independent features, makes the HDW Class 214 predestined for anti-surface ship and anti-submarine operations, intelligence, surveillance and reconnaissance tasks, special forces operations. The HDW Class 214 design is characterised by increased underwater endurance and low detection risk using the proven fuel cell system for air-independent propulsion, increased diving depth, low revolution, permanently excited PERMASYN motor for maximum speed without transient switching noises, optimised signature management, sonar development within the ISUS 90 for increased low-frequency detection ranges (flank array), large weapon payload for a mix of torpedoes, missiles and mines, integration of torpedo countermeasures (TCM) system. Thanks to its modular design and high degree of automation, this submarine is a very cost-effective weapon system, extremely difficult to detect and thus the unbeatable solution for future-orientated navies." The Indian Navy is currently also in discussions with Germany on a possible upgrade of four HDW Class 209 submarines (Shishumar class) in service.
Spain's Navantia is still in the game too, despite a significant setback last year: the shipbuilder was forced to enlist American help to fine-tune the design after it was found that the first S-80 for the Spanish Navy was several tonnes too heavy. That said, the S-80 continues to be promising platform still under the Indian Navy's active consideration. The company will be looking to mount an intensive campaign this year to highlight the S-80's state-of-theart technology based on OSA and extensive usage of COTS elements, its advanced passive sonar, advanced mines and obstacle detection donar (MODS), rowed array sonar including handling system (winch), periscope system with optronic sensor and optical attack periscope, electronic warfare system (Radar and COMSM), LPI radar, high level of acoustic and non-acoustic sensor integration C4I optimum information management using data LINK-22/11, internal and external integrated communication system with VLF/LF, HF, VHF, UHF, Inmarsat and Iridium capabilities, high data rate satellite communication system (HDR SATCOM), weapon control system for torpedoes and anti-ship missiles, 6 X Positive Discharge TLTS for torpedoes, missiles and mines, acoustic sonar countermeasures and torpedo countermeasures system and low life cycle cost design. Competition will be tough.
The Indian Navy recently welcomed the INS Vikramaditya aircraft carrier into service, heralding what will hopefully be a successful year for the service. The Navy is already on a psychological high with two operational aircraft carriers, and steady inflow of surface combatants. Ahead of Navy Day on December 4 last year, Chief of the Naval Staff, Admiral D.K. Joshi said, "Our theme for this year's Navy Week, 'Indian Navy Maritime Security Through Self-Reliance', encapsulates our commitment to indigenisation in quest for strategic autonomy for the nation. We are proud of the fact that all 45 ships and submarines, which are currently on order for Indian Navy, are being constructed in India in both public as well as private shipyards." But there's no time for pause. For its area of responsibility and area of operations, the Indian Navy remains underequipped, and is forced to make do with what it has, frequently stretching its available equipment to the limits. Each passing Defexpo only amplifies the inexorable delays in decision-making for modernisation.