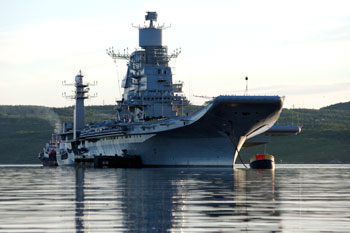 One of the chief concerns for Commodore Suraj Berry and his crew when they sailed into Indian waters this month, was that their 44,500-tonne vessel would have problems adapting to the dramatically different climate from what she was used to. But the INS Vikramaditya has sailed through, as it were, with remarkable robustness.
The Russian guarantee team on board the ship from Sevmash and Nevskoye Bureau had in fact voiced its concerns during trials last year in Severomorsk about how certain dynamic systems, hydraulics and other systems would function in tropical conditions. During her passage through the Arabia Sea, SP's learns that the crew conducted a planned series of 'tropical proof' maneouvers to establish the vessel's robustness in warmer weather — still winter, but far warmer than the severely freezing temperatures of North-West Russia.
SP's has also learnt that a fresh round of 'tropical proof' trials will commence in May this year in the course of routine exercises, where the ship's systems will be meticulously observed in hot weather conditions out at sea, where the vessel will be pushed to the limits of its abilities, including speed, to ensure that ambient heat prevalent in Indian waters doesn't in any way hamper a ship that has never ventured out of freezing weather before this month. A top source on board the ship, currently docked at Karwar, said, "There is nothing to worry about so far. She has come through in style and we expect that to continue. She is a brand new ship in every respect."