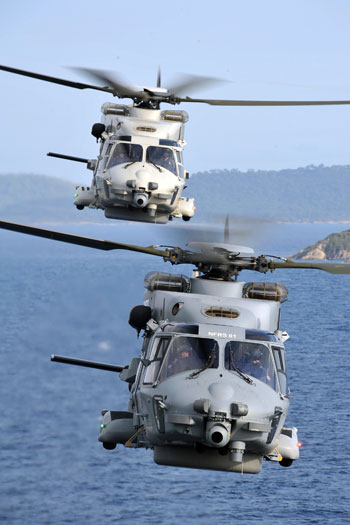 It has been confirmed that delays have once again cast uncertainty over the Indian Navy's request for propsal (RFP) for the highly anticipated naval multi-role helicopter (NMRH) requirement, envisaging 120 multi-role helicopters for the Navy to be procured through the 'Buy & Make' route of the defence procurement procedure. In all respects, it is likely to be the single largest helicopter tender by any Navy anywhere in the world, though a decision on an earlier competition means the RFP is likely to be out later rather than sooner.
A billion dollar competition between the NH Industries NH90 and Sikorsky S-70B Seahawk for the separate multi-role helicopter (MRH) requirement remains delayed as a result of offsets snags, further delaying the Indian Navy's issuance of the NMRH RFP. Sources say things could finally be moving forward with the RFP, though it will not be released this financial year, and is more likely to be released towards the end of 2014 when there is greater clarity on the MRH itself.
As reported earlier by SP's, the Navy needs the NMRH choppers for anti-submarine warfare, special missions over sea and land and utility/troop/logistical operations. Unlike the MRH, which is a two-horse race between Sikorsky and NH Industries, the NMRH — which at 120 helicopters is perhaps the largest helicopter tender in the world — will be a three-way competition fought between the Lockheed-Martin/Sikorsky combine offering the MH-60 Romeo helicopter, in service with the US Navy and Royal Australian Navy, the Airbus Helicopter EC725 (in service with the navies of Mexico and Brazil) — also pitched for the Indian Coast Guard's requirement of 16 shore-based multi-role helicopters — and the NH90 in service with the navies of Netherlands and France. It is unclear at this time if Sikorsky will separately pitch a navalised version of the H-92 Superhawk, though there have been reports to suggest it may be considering the option.