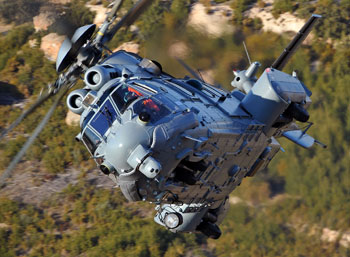 Airbus Helicopters is gearing up for flight trials of the EC725 Caracal to meet the Indian Coast Guard's requirement of 14 shore-based combat search and rescue and multirole helicopters. The Caracal made it through technical evaluations late last year and will be put through the paces for what will be the Indian Coast Guard's first major helicopter purchase in decades.
Saddled with light helicopters like the Chetak and ALH Dhruv, the ICG has had a long hiStory of abortive acquisition attempts, including an infamous effort to lease choppers from vendors as a stopgap to tide over procurement delays and red tape. Sources say that there is plenty of time yet before a contract award in the CSAR competition, but that forward progress is heartening, given the major setbacks vendors like AgustaWestland have faced in the helicopter sphere in recent weeks.
The Airbus Helicopters EC725 will also be a bidder for the upcoming Indian Navy NMRH programme, in addition to HAL's stalled Indian medium-role helicopter (IMRH) effort. Airbus Helicopters is currently also in discussions with HAL to consider an all new production line for the EC725 in Bangalore, to bolster its campaign for the supply of a large number of specialty helicopters to all three services, the paramilitary forces and perhaps for state executive transport.