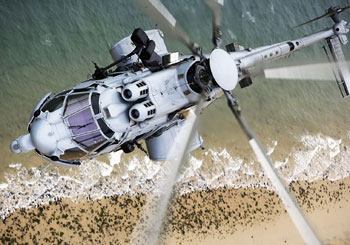 Woefully short of aviation assets, the Indian Coast Guard finally has reason to cheer, with the technical bids from three vendors to support a sale of 14 shore-based twin engine multirole helicopters is complete, paving the way for the field evaluation trials (FET) stage. The three companies competing are Eurocopter, Sikorsky and AgustaWestland.
The RFP for the acquisition—one of two, the other being for 16 shipborne multi-utility choppers—was issued on November 5, 2012. In April this year, Defence Minister A.K. Antony clarified on AgustaWestland's participation in ongoing Indian tenders in the light of the VVIP helicopter investigation.
He informed Parliament, "Since no decision to debar the said company from participation in the procurement process has so far been taken, the bids are under process." Ministry of Defence (MoD) sources suggest that even in a worst case scenario, the potential ejection of AgustaWestland from the competition in the event of a possible blacklist, would leave two contenders in the fray, thereby avoiding a single vendor situation, and therefore avoiding a re-tender.