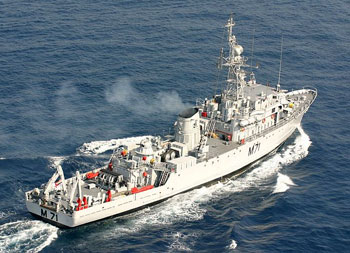 Karwar-class minesweeper of IN
In what has brought relief to the Indian Navy, the Indian Government is now poised to sign a $1.2 billion deal with South Korea's Kangnam Corporation for eight mine counter measure vessels (MCMV). The first two 885 tonne vessels will be built in Korea, while the other six will be built at Goa Shipyard Ltd under a technology transfer agreement.
The ships will progressively replace the ageing Karwar and Pondicherry-class minesweepers currently in service with the Indian Navy. The ships will be 63-metres long, with a maximum speed of 16 knots and a range 7,400 km at 10 knots. Equipment on board the vessel will be chosen from among Thales, Atlas Elektronik, Fábrica de Artillería Bazán FABA of Spain and France's ECA SA. Bharat Electronics Ltd (BEL) will supply the radar and sonar on board the eight ships, while the armaments on board the ship will be built under a joint venture between BEL and OTO Melara.