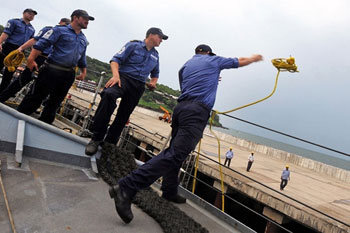 The ninth edition of the Indo-UK naval exercise 'Konkan' was conducted successfully off the West coast of India earlier this month, with two frontline surface combatants from the two navies participating. While the Indian Navy fielded guided missile destroyer INS Delhi, commanded by Captain Sandeep Metha, the Royal Navy fielded the HMS Westminster, a Type 23 Frigate, commanded by Capt Hugh Beard. The two navies conducted asymmetric operations, anti-air warfare and visit board search and seizure (VBSS) exercises.
The exercise ran in two phases, initially a harbour phase to test communications and carry out training, as well a pre-sailing conference, and then the chance to play each other at sports. The second phase was at sea where HMS Westminster and INS Delhi engaged in a multitude of operations, including gunnery, boarding, flying stations, anti-submarine and anti-aircraft exercises.
"The cooperation between the two navies is a positive and tangible symbol of commitment in ensuring a positive climate for maritime security and economic development. Such exercises between the two navies manifest growing friendship between the two nations, with an aim to maintain peace and stability in the Indian Ocean Region," said the Indian Navy in a statement.
HMS Westminster's Commanding Officer, Captain Hugh Beard, said, "It is with great pleasure that Westminster returns to Goa following our successful Konkan exercise in April 2008. It's my first experience of operations with the Indian Navy and my aim is to build upon the successes of my predecessors and increase the mutual understanding and cooperation between our two navies."