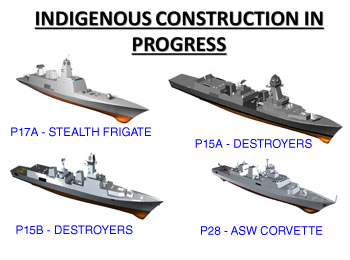 With the theme 'Maritime security through self reliance' in 2013, the Indian Navy won't be acquitting itself badly this year. In fact, if the INS Sindhurakshak tragedy hadn't happened, this was likely a golden year for the service. Indgenisation is on an upswing, and the Navy will be paying tribute to the year's theme by welcoming into service the first of the two exciting new classes of indigenously-designed and built warships — the Project 15A Kolkata guided missile destroyer and Project 28 Kamorta anti-submarine warfare corvette, both this fiscal. Out of the 47 ships under construction at this time for the Indian Navy, 46 of those are being built in Indian shipyards — a great source of pride for a service that has persistently placed emphasis on home-grown technology and hardware.
The ships being built in India using Indian design and know-how include the Vikrant-class aircraft indigenous carrier that was launched earlier this month, three P15A destroyers (Kolkata-class), four follow-on yet to be named P15B destroyers, seven P17A stealth frigates and four P28 Kamorta-class anti-submarine warfare corvettes.
As was revealed last year, the Navy will be looking to add platforms at a rapid pace to its fleet — as many as six-seven ships per year if possible. Navy Chief Admiral D.K. Joshi has in fact asked shipyards both public and private to compress time frames so that ships are commissioned earlier than their tentative schedules. Along with the ships for which the Navy has obtained acceptance of necessity from the MoD, it is in line to receive 95 vessels of all kinds, ranging from a 40,000 tonne aircraft carrier right down to small survey training vessels and water jet fast attack craft. More specifically, the ships for which the navy now has leave to order construction include the Project 17A (which are to be built at both MDL, Mumbai and GRSE, Kolkata), four water-jet FACs, to be built at GRSE, Kolkata, one training ship, to be built at a private shipyard, six mine hunters to be built at Goa Shipyard under ToT from Korea (the first will be built in that country and supplied). In addition to all of this, requests for proposals for four LPDs, 16 shallow water ASW ships (to be split between two shipyards), one survey training vessel and two diving support vessels will also be activated.