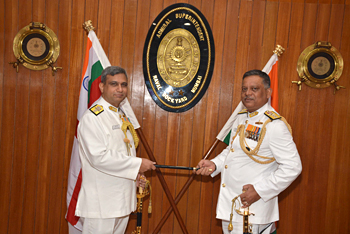 September 9, 2016: Rear Admiral Sanjeev Kale, VSM assumed charge as the Admiral Superintendent, Naval Dockyard, Mumbai on 27 Jul 16. The Admiral was commissioned into the Indian Navy on 01 Aug 83 on completion of BE in Electrical Engineering from Government Engineering College, Jabalpur. The Admiral is an alumnus of IIT Kharagpur, Naval War College and National Defence College.
The Flag Officer in his career spanning 33 years has served the Navy in various appointments such as Commissioning Electrical Officer of INS Talwar, Fleet Electrical Officer (Western Fleet), AGM (Planning) and Manager (Electrical) at Naval Dockyards at Mumbai and Visakhapatnam respectively. The Flag Officer has also commanded INS Valsura and served at IHQ MoD (Navy) as PDIT and DEE.
On promotion to the Flag rank, the Admiral was appointed as ADGQA (N) followed by Director General, Weapon Electronics Systems engineering Establishment at New Delhi, prior to taking over duties of Admiral Superintendent, Naval Dockyard, Mumbai.

Photo Credit: PRO (Navy)