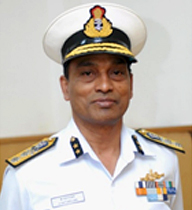 Inspector General K Natarajan, PTM, TM, has been taken over as the 21st commander of the Coast Guard Region (A&N) on 05 May 2014 Vice Inspector General VSR Murthy, PTM, TM. Inspector General K Natarajan joined the Indian Coast Guard on 18 Jan 1984 and holds master degree in Defence & Strategic Studies from Madras University.
Inspector General K Natarajan has held various important command and staff appointments, both afloat and ashore during his 30 years of illustrious career. He has commanded all four major classes of Indian Coast Guard ships with distinction, viz., advanced offshore patrol vessel Sangram, offshore patrol vessel Veera, fast patrol vessel Kanaklata Barua and inshore patrol vessel Chand Bibi. The officer's important appointments ashore include the commander coast guard district no. 5 (Tamil Nadu) and commanding officer, ICGS Mandapam.
The officer assumed the duties of the commander coast guard region (A&N) on 05 May 2014. The flag officer is an alumnus of the Defence Service Staff College, Wellington. A specialist in search and rescue, maritime safety and port operations, from the US Coast Guard Reserve Training Centre, Yorktown, Virginia, USA.
Inspector General K Natarajan is a recipient of President Tatrakshak Medal (distinguished service) in 2011, Tatrakshak Medal (meritorious) in 1996 and was also awarded Director General Indian Coast Guard Commendations in 1987.
The flag officer is happily married to Mrs. Jayanthi Natarajan. They have one daughter Dr. Keerthika, a Dentist and one son Neeraj who is pursuing higher education. Meanwhile Inspector General VSR Murthy, PTM, TM, COMCG (A&N) on relinquishing command will be moving to Kolkata as the Commander Coast Guard Region (North East), with the area of responsibility of Maritime Region of West Bengal and Odisha.